Protests Against Gldani Prison Scandal Continue
By Messenger Staff
Friday, September 21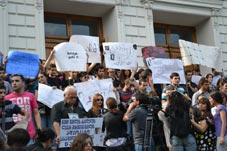 With the slogans "Do Not Torture" and "No to Violence" protest rallies continue in Georgia's major cities including the capital Tbilisi. A large protest began at Tbilisi State University where thousands of students expressed solidarity with the prisoners and their family members. The student demands remains the same: punish all responsible people in the Gldani prison rape crime and investigate all those crimes adequately and transparently.
"Firstly we want to punish Bacho Akhalaia and all the people involved in torture cases. We demand an investigation be held jointly with international organizations," student Mariam Kobulia stated adding that the demonstration is totally apolitical and students do not wish to see any political activist at their rallies.
"Akhalaia should resign during within 24 hours. If our demand is not fulfilled we will take more extreme measures." Gocha Surguladze from Batumi University said.
"We are shocked after seeing the video footage and we strongly condemn this incident and demand resignation of all officials responsible," Lasha Ugulava stated.
"The whole country is shocked and we join their protest. We express solidarity with all those people affected and we will support them until our demands are met," Giorgi Nutsubidze from Kutaisi University told media.
Protests and expressions of solidarity are not limited to students, however. NGOs, ordinary people and prisoner's family members are holding rallies nearby Gldani prison and in the center of Tbilisi. Prisoner's relatives burnt T-shirts of the United National Movement (UNM) in front of Gldani Prison yesterday, saying that members of Saakashvili's government are equally guilty of torture.
Meanwhile NGO Mothers` Committee held a press conference where they condemned violence in prisons and demanded punishment for people involved in the torture and abuse of inmates in Georgian prisons. Ketevan Adamia, founder of the committee called on the public to keep quiet and express their protest at the polling stations on election day.
"Mothers' Committee condemns the facts of sadism which were shown to the public in the last couple of days. We have been complaining about this for the past two years, but no adequate reaction occurred. We call on the public to ignore provocations and express their position and protest at the polling stations on October 1st," Ketevan Adamia said.
Earlier yesterday, five members of the Georgian National Ballet SukhiShvilebi joined the Georgian Dream coalition, stating that each citizen should take a firm political position. This was followed by dance assemble Erisioni's decision, whose entire staff joined Georgian Dream.
"The entire staff of Erisioni joins Georgian Dream and expresses its protest against the crimes in this country. We think that Georgian art representatives should be in the service of the people and not the authorities," Erisioni statement reads.