Lazika building underway
By Messenger Staff
Monday, September 24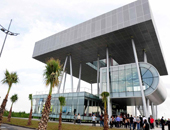 President Saakashvili visited the nascent city of Lazika last week and introduced the local population to the current projects which will be carried out in the near future. One of the projects is the construction of a new port which, according to the president, will be the largest in the Black Sea coast of Georgia.
"Georgia needs Lazika port if we want to receive more financial benefits. About 1,500 people will be employed during the building process and it will create approximately 4, 000-8, 000 jobs in the logistics sector," the president said.
Saakashvili talked about the building to be constructed in Lazika city. According to him, as soon as slash drying process is finished, the construction of Lazika City Hall, business centers and other projects will be constructed. These include several hotels, railways and road infrastructure.
Saakashvili visited the only building standing in Lazika– the administrative center of the city, which is distinguished by its original design by a Georgian architect.
The president spoke about the economic development of the area, stating that foreign investors will come and invest in the construction of a new city that will in turn create additional jobs among the local population.