Georgian Deputy Foreign Minister Nino Kalandadze briefs media
By Messenger Staff
Tuesday, September 25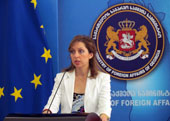 There is a threat of destabilization and provocation from the Russian Federation. A statement was made by the deputy FM Nino Kalandadze on Monday. Kalandadze said that the Georgian authorities have warned several times before that Russia will become more active during the pre-election period in Georgia and will try to cause some provocations in the country. "This was the reason the Georgian authorities were asking the international community to focus their attention on Russia's Caucasus 2012 military training exercises held near the administrative border.
Kalandadze also stressed the fact that Russian military planes have violated Georgian air space a few days ago and said that this was not an accidental fact, adding that the Georgian foreign ministry is working to provide information to international organizations about this incident.
In her briefing Kalandadze denied rumors that Secretary of the National Security Council of Georgia Giga Bokeria is in Russia. Kalandadze says that Bokeria is in Georgia and he has never had a reason to pay a visit to Russia. Information on Bokeria's visit to Russia was released on social networks last week.
Deputy FM Kalandadze responded to the video footage taken near Georgia's embassy in London, where Georgian emigrants held a demonstration to condemn the prison rape in Georgian jails. While protesting, Georgia's ambassador, Giorgi Badridze came out in the street and assaulted demonstrators.
Kalandadze says that the rally participants offended the ambassador and he could not resist responding to them. "We should admit that this incident was unpleasant," Kalandadze commented, adding that the ambassador should have controlled his emotions.