Ivanishvili names the remaining candidates for the new Cabinet
By Ana Robakidze
Wednesday, October 17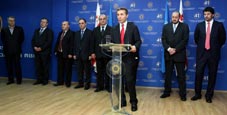 Bidzina Ivanishvili announced nominees for the rest of the ministerial posts on October 16th. The Georgian Dream leader also made some changes in the original list of the candidates.
Kakha Kaladze, who was originally a candidate for the post of Minister of Infrastructure and Regional Development, has now become a candidate for the post of the Minister of Energy and Natural Resources.
David Narmania is a new nominee to become the head of the Infrastructure and Regional Development. However, this ministry is going to be abolished in the future and the related issues will be addressed by the Ministry of Economics. Narmania, currently the executive director of the Economic and Social Institute of the Caucasus, will take the post temporarily, as it is planned to create a separate agency under the PM. Infrastructure development will go under the ministry of economy.
Amiran Gamkrelidze has withdrawn his candidature for the post of healthcare minister. His decision was based on his willingness to avoid a future conflict of interest, as for the last several years, his son has been working as the general director of ALDAGI BCI, the leading health insurance company in Georgia, as well as holding its own hospitals within the country. Gamkrelidze is an official representative of the World Health Organization and he will remain as Ivanishvili's personal adviser on healthcare and social issues. The new candidate that will take the post of healthcare minister is Davit Sergienko, a doctor who has lead Sachkhere hospital.
Giorgi Kvirikashvili, named as a nominee for Minister of Economy and Sustainable Development, is planning to launch some changes in the structure of the ministry. However, he also promised in his interviews that all professional staff will keep their positions. Kvirikashvili, a former member of the board of directors in Cartu Bank, is hoping to establish an effective anti-monopoly system and create the best environment for business persons in the country.
Ivanishvili also name the candidate for the Minister of Finance– Nodar Khaduri, a member of the Georgian Dream Coalition. Creating more jobs for the citizens is going to be his primary goal while holding the post.
Giorgi Margvelashvili, rector of the Georgian Institute of Public Affairs (GIPA) in Tbilisi, is nominated as the future Minister of Education and Khatuna Gogaladze, who has previously worked on environmental issues with OSCE, is the candidate taking the post of Minister of Environmental Protection. Ivanishvili also named Davit Darakhvelidze, candidate for the Minister in charge of IDPs issues.