Ivanishvili not boycotting Sochi Olympics
By Ana Robakidze
Thursday, October 18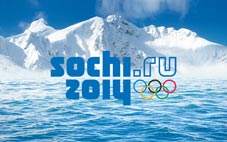 President Saakashvili had never officially announced that the country would boycott the Sochi Olympic Games, but still it was widely considered that Georgia would not participate in the 2014 games. The President had repeated in his numerous interviews that the Olympic Games could be a problem, as Sochi is just a few kilometers away from the place (Abkhazia) where Russia has legalized on an apolitical level, the ethnic cleansing of Georgians. However, Saakashvili always used to mention that he was not the one to determine whether the country should boycott the games, but the National Olympic Committee had to decide on.
Bidzina Ivanishvili and his incoming government are not going to boycott the Sochi Olympic Games. "We welcome holding the Olympic Games and Georgia has to participate. Moreover as a neighboring country we will do everything on our part to make sure the games are held in a peaceful environment, without any accidents," Ivanishvili said at a press-conference held in a Georgian Dream office, after he was asked about the latest rumors in the Georgian press that the GD leader would try to thwart the Olympic Games. However, Ivanishvili was not specific on how he is going to co-operate with the Russian Federation in terms of supporting the Olympic Games.
The Georgian Dream leader is of course supported by his team members. Giorgi Volski from GD commented in his TV interview that it is hard to avoid politics while talking about the future Olympic Games. However, it would be unjustified to boycott the games.
Possible participation in the games is highly opposed by the United National Movement. "The territories (Abkhazia and South-Ossetia) have been occupied, an ethnic cleansing has taken place, and Russia has violated all major articles contained in the Olympic charter" says Shota Malashkhia from the UNM. He finds it to be absolutely unacceptable for the country to participate in the Olympic Games, which will be held in Russia.
The idea of participating in the Olympics is not supported by the experts either. They say that taking part in the Games will be a failure of Georgian diplomacy, as the government was calling other countries to boycott the Games as well. In addition, the Georgian parliament has recognized the genocide of the Circassians committed by the Russians. The countries do not have any diplomatic relations, therefore it would not be proper to change the policy and take part in the Games. Vasil Chkoidze, an expert and a political analyst, says that if Georgia joins the Olympic Games, it may be harmful for country's international prestige.