EU Commissioner for Enlargement and European Neighborhood Policy visits Georgia
By Ana Robakidze
Friday, October 19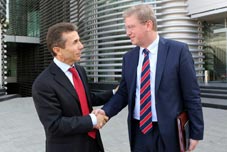 Stefan Fule, European Union (EU) Commissioner for Enlargement and European Neighborhood Policy, visited Georgia and met with Bidzina Ivanishvili and other members of the incoming Georgian Dream government. In his role as Commissioner Fule is in charge of overseeing the accession process of prospective new member states as well as relations with countries bordering the EU. The main topic of the meeting was Georgia's further integration with the EU.
Incoming Chairman of Parliament David Usupashvili stated at a press conference afterwards that the meeting was held in a very friendly environment. Ivanishvili has also received an official invitation letter to Brussels sent by President Barroso, where he will have several meetings with the top officials from various EU institutions.
Fule also met Maia Panjikidze, the incoming Minister of Foreign Affairs and Irakli Alasania, the future Minister of Defense. "Georgia is not going to change its foreign policy and integration with EU and NATO will be the major priority of the new government." Panjikidze commented after the meeting.
The EU Commissioner also forwarded some messages from EU Foreign Ministers. "After they (the ministers) discussed the latest elections in Georgia which were held according to democratic principles the ministers expressed their willingness to support Georgia." Fule said at a press conference held at the Radisson Hotel in Tbilisi. The EU representative expressed his satisfaction with the peaceful transition of power in Georgia. Fule hopes that the new government and the opposition will continue to cooperate in the future despite their differences.
"Georgia has taken many important steps towards integration with the EU, and the process shall be developed further." Fule said. He also advised the incoming government to be more involved in dialogue with society, as civil society has played a major role in strengthening democracy in Georgia.
Fule also commented on the mutual achievements brought about by Georgia-EU cooperation in economic and political fields. On behalf of the EU Fule thanked Mikheil Saakshvili and his government for carrying out reforms and achievements "they can be proud of".
Fule was accompanied by Helga Schmid, Deputy Secretary-General for the External Action Service. She informed Georgian media sources that the EU will still play an active role in conflict settlement and establishing stabilization in the country. "We will continue cooperation within the framework of the Geneva Talks and the EU Observer Mission. The EU will continue to serve as a guarantee for peace in the country." Schmid stated. Shmid added that non-recognition of Abkhazian and South Ossetian independence is the only policy EU intends to follow.
Schmid emphasized that the EU is a close friend of the Georgian people, not of a particular political party.