"Chacha Tower" with unique spirit fountain opened in Batumi, Georgia
Monday, October 22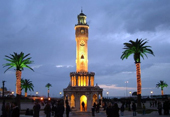 The so-called "Chacha Tower" with a unique spirit fountain was opened yesterday in Batumi, Georgia's Black Sea resort town. Batumi's Mayor Jemal Ananidze and Achara Prime Minister Levan Varshalomidze were present at the ceremony.
Chacha
is a strong Georgian spirit, sometimes described as grape brandy or grappa.
"It will be a tower fountain, where instead of water the Georgian chacha will flow, and everyone - our citizens, foreign visitors and tourists - will have the opportunity to taste it free," said the chairman of the City Council of Batumi, Giorgi Kirtadze, in March 2012, when the plans for Chacha Tower became known. Mr. Kirtadze then noted that chacha will flow once a week for 15 minutes, but today at the opening ceremony the public was offered to drink chacha not from the fountain, but from a special dispenser.
Construction of 25-meter Chacha Tower cost around 800,000 Georgian Lari (around $500,000 USD). Batumi City Hall financed the project. The tower was constructed in traditional style. In addition to the fountain, it will host a tourism information center, outdoor swimming pool (with no liquor though) and other facilities.
(Hvino News)