Government introduces plan to address needs of vulnerable population
By Salome Modebadze
Thursday, November 1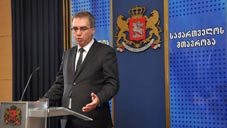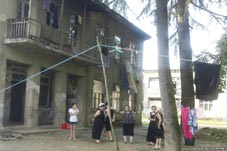 The Georgian government adopted an action plan for solving the problems of people who have illegally occupied public and state buildings throughout Georgia and who demand a permanent shelter.
The issue of re-sheltering the unprotected population has been among the main topics of the first session of the newly-elected government. Minister of Healthcare Davit Sergienko said after the session on October 31, that the number of such people has exceeded 1, 600.
Minister Sergienko said that the main issue is now to allocate money from the state budget for hiring flats for "the most vulnerable families." Sergienko hoped that by the end of the next week the issue would be solved.
Supposing that some people might be using the "wave" [of protests], the ministry hoped that social workers would identify the number of "really vulnerable" people, realize their problems and assist them.
Prime Minister Bidzina Ivanishvili said the issue of permanent invasion of the public and state buildings is very interesting because internally displaced people (IDPs) have also demanded the state assistance.
Ivanishvili thinks that some groups are standing behind this "organized" wave. "I think these processes are not accidental," the PM said stressing the need for investigation.
Minister of IDPs Davit Darakhvelidze called on the IDPs to stop acting against the law. He said their problems cannot be immediately solved but need some time.
The day earlier, socially unprotected families announced a hunger strike in front of the Ministry of Healthcare demanding a meeting with Minister Sergienko. Socially unprotected citizen Marina Tchighladze said people have nowhere to find shelter, but stay under the open sky with small children. "Let them consider us as people," she addressed the government.
Radio Tavisupleba reports that the illegal invasion of IDPs and those within the socially vulnerable population have become a usual case after the recent parliamentary elections on October 1.
Eka Gulua, Advisor to the Minister of IDPs, told Radio Tavilupleba that six groups consisting of the representatives of the ministry, local and international NGOs, are studying the illegally occupied buildings and the IDPs to identify people who really have no accommodations. Gulua said the only thing on which the NGOs agree is that these people are violating the law and should leave these properties on their own accord.
Chairperson of the IDPs' civil movement, Elmira Apakidze, thinks that these IDPs' activities have characteristics akin to sabotage. Encouraging them to find legal way out of their hardship, she said the new government has promised to provide all the IDPs with accommodation step by step.
Forcefully occupying the buildings in Tbilisi and regions, IDPs say they could neither bear the difficult living conditions nor afford to obtain their own flats. Through nine-years of President Mikheil Saakashvili's governance, they have been asking for permanent accommodation assistance, but this effort has been met with little or no response.