New government of Adjara is elected
By Salome Modebadze
Friday, November 2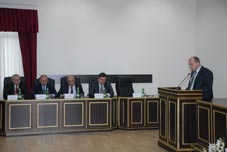 Georgia's autonomous republic of Adjara has a new cabinet of ministers with 13 votes against none.
Archil Khabadze, Head of the Adjaran Government stated on November 1st that the four ministers were selected according to their competence and professionalism in coordination with Georgian Dream coalition leaders and Adjarian MPs. "It was a decision achieved through consensus." he stated.
The new Minister of Finance and Economy of Adjara is Giorgi Tavartkiladze; the Minister of Agriculture is Zaur Putkaradze; the Minister of Education, Culture and Sport is Gia Tavamaishvili; and the Minister of Healthcare and Social Protection is Nugzar Surmanidze.
Gia Tavamaishvili said he is professionally more familiar with the educational sector but he will analyze and study the problems and challenges of culture and sport as well as educational issues.
Refusing to participate in the voting, one of the eight United National Movement (UNM) members said the opposition cannot share responsibility with the new government because they think the ruling Georgian Dream has given unrealistic election promises to population.
Georgian Parliamentary Chairman Davit Usupashvili, who attended the session in Adjara as a special guest, stated that Georgian Dream wants to establish justice and welfare for everyone in the country, not only for government officials.
He said his team is oriented on ensuring "universal" security in the country for ordinary citizens as well as for their political opponents.
Usupashvili said they should not only solve Adjaran problems but also establish a model of governance for other regions. According to Usupashvili creating a culture of solving problems on the regional level would be an important innovation.
"Our main goal is to establish real local and regional governments," Usupashvili told journalists before stressing the responsibility of Adjaran officials in the coming years.
Usupashvili said his different approach towards the "regional model" was one of the reasons why he politically separated from the UNM in 2004. He said the then ruling UNM government wanted less regional decision-making power because they perceived powerful regional governments as a threat to their power.