Tbilisi municipality still refuses to fund social benefits
By Ana Robakidze
Tuesday, November 6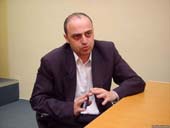 It is still unclear who has the responsibility to cover expenses for the state funded health-insurance and other social benefits. The Tbilisi Mayor's office says that Gigi Ugulava does not have a legal right to finance the social programs.
Vano Merabishvili signed three decrees assigning the burden of funding of social benefits to the Healthcare Ministry, on October 19th. However, sufficient funds have never been transferred to the ministry. The new government was not informed about the changes, though the power transition was in progress at that time. The decrees issued by his predecessor were annulled by Bidzina Ivanishvili on October 31st.
The official statement published by the Ministries of Healthcare and Finance, reports that all responsibilities on suspending the social projects of state-funded health insurance, social benefits and subsidize discounts for municipal transport fees should be carried only by the previous government, specifically by Vano Merabsihvili and the Tbilisi municipality.
Tbilisi residents will not be able to enjoy the social benefits in 2012, as these projects are not being considered by the budget regulation. One of the major problems is that the city municipality prematurely cancelled contracts with insurance companies, due to lack of necessary funds.
The Ministry of Healthcare says in the statement that Tbilisi's municipality had enough funds available to carry on with the health insurance project, as there was about 12 million GEL available from the funds assigned to healthcare. The ministry claims that the city budget still owns enough funds to proceed with the suspended social programs.
The expenditures on social programs have never been considered in the budget plan of the Ministry of Healthcare for 2012, therefore it is impossible to find the sufficient funds.
The Ministries of Finance and Healthcare requested in their official statement to have restored the original plan of Tbilisi's budget for 2012 and the suspended social programs to be renewed by the city municipality.
David Ebralidze, the deputy minister of Finance, said that the new government will find the sources to help the citizens who cannot enjoy their social benefits any longer.
While visiting the Maestro TV press club, Ebralidze announced that if the mayor's office and the city municipality do not acknowledge that the steps taken by them were irresponsible and unlawful, it will be hard to begin consultations. The deputy minister is sure that there are two ways out of the current situation– either both Tbilisi's mayor's office and the assembly restore the status quo and the previous budget plan, or the current money transfers going on in the city budget will be limited and social benefits will be financed with saved funds.
The budget plan for 2013 will be discussed in the parliament on November 5. Ebralidze promised that all strategic projects on agriculture development and insurance, as well as limiting expenditures on the president and his administration will be discussed in the new budget plan.