Europe's top properties scoop prestigious industry awards
Thursday, November 8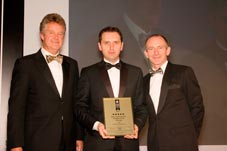 The best developments in architecture and interior design from across Europe were celebrated at the Grosvenor Square Marriott Hotel in London. Leading property professionals behind these outstanding projects were invited to attend the European Property Awards in association with Yamaha and the Royal Institute of Chartered Surveyors (RICS).
The Five Star Award was handed to Green Lisi Town of Georgian Lisi Development for the best multiple unit development in Georgia.
The main concept of Green Lisi Town is the creation of a calm and healthy ecological area. "In the nature created in the city your calmness and splendid views will always be preserved. In Green Lisi Town you will always feel the comfort of the modern life and the cosiness of nature," the Green Lisi Town statement reads.
Green Lisi Town includes the residential complex Lisi Veranda, Lisi Lake recreational and sports area, Guivi Zaldastanishvili American Academy, a new thermal spa centre and an artistic studio complex, among others.
The European Property Awards, combined with other regional awards' programs for the Middle East, Asia and the Pacific, Africa, the UK and the Americas, form the globally renowned International Property Awards. Now in their 19th year, they are the world's most prestigious property competition and cover residential as well as commercial categories.
Judging was carried out through a meticulous process involving a panel of over 60 experts covering every aspect of the property business.