Akhalaia, Kalandadze and Shamatava officially charged
By Salome Modebadze
Friday, November 9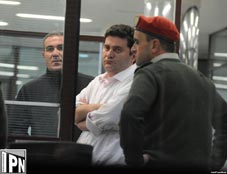 Former Minister of Internal Affairs Bacho Akhalaia may face up to twelve years of detention for illegal suppression of freedom and violation of official duties. Chief of Staff of the Georgian Armed Forces Giorgi Kalandadze and Chief of the 4th brigade Zurab Shamatava are only accused of violating their official duties and face a considerably smaller sentence.
Yesterday the Ministry of Justice released the testimonies of five former soldiers of the 4th brigade of the Georgian Army. Akhalaia, Kalandadze and Shamatava were detained based on the accusations of five servicemen who testified that the three men verbally and physically abused them.
General Prosecutor Archil Kbilashvili spoke of "several dozen" appeals from citizens requesting investigation of various alleged wrongdoings by Akhalaia during his time as Head of Penitentiary Department and later Minister of Defense.
The widow of the Georgian Defense Ministry Colonel Sergo Tetradze has also accused Akhalaia of helping to murder her husband at Gldani Prison in September 2011. She said the military police arrested Tetradze at his home and returned his corpse to the family a few days later.
The official cause of Tetradze's death is a heart attack but his family still does not know the reason for his arrest and detention. Bacho Akhalaia told
Radio Tavisupleba
on Monday that the only thing he knows is that Tetradze died in prison. "I have no additional information about this case." Akhalaia said adding that the truth about Tetradze's death will be uncovered.
Minister of Justice Tea Tsulukiani said on November 8th that the accusation of involvement in Tetradze's death will not be brought against Akhalaia when he appears in court on November 9th.
"This is not an act of political revenge like the former government used to carry out." Tsulukiani said. She added that if other former officials are accused of violations committed while they were in office they will also face detention. She said the new administration only wants to fulfil its promises to the Georgian population and restore justice.
Claiming that the accusations against the former minister are nonsense Akhalaia's assistant Lali Tskhadadze said she is ready to give testimony at court and "tell the truth."
"It is nonsense to charge a person who works all the day and night without a stop," she told Palitra TV. Emphasizing that she was Akhalaia's assistant for eight years Tskhadadze said the minister was always very careful and attentive with employees.
The United National Movement (UNM) members think the new administration is carrying out a political persecution against members of the former government. UNM member Akaki Minashvili said that detention of noted reformer Akhalaia is a step aimed against the "strength of Georgian statehood". UNM Parliament member Nugzar Tsiklauri said Akhalaia was responsible for defeating organized crime in Georgia and thus his detention is a step against the security of the country. Tsiklauri also described Kalandadze as a "hero" of the August 2008 war before adding that his arrest is the first case of detaining the Chief of the Joint Armed Forces in Georgian history.
The three detainees deny any wrong doing. Their first appearance in court is scheduled to be on November 9th.