PM Ivanishvili pays his first official trip
By Ana Robakidze
Tuesday, November 13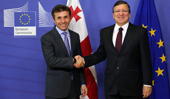 Bidzina Ivanishvili paid an official visit to Brussels as his first foreign trip as a Prime minister and held important meetings with the President of the European Commission, Jose Manuel Barroso and the President of the Council of Europe, Herman Van Rompuy. The meetings were also attended by Stefan Fule, the European Commissioner for Enlargement and European Neighborhood Policy.
A meeting with the President of the European Parliament, Martin Schulz and the Georgian Diaspora is also on the agenda.
Ivanishvili once again announced in Brussels that future integration with Europe is one of the major priorities for his government and he is not going to change the country's foreign policy.
EU association agreement, free trade with EU member countries and the possibilities to allow a visa-free regime for Georgians with the EU; these were the major issues discussed by Ivanishvili and Barroso during their meeting.
Speaking at a joint news conference after the meeting with President Barroso, the Georgian PM told journalists that the main task for the country will be signing an EU association agreement before the Vilnius (Eastern Partnership) Summit in 2013. Ivanishvili is going to make sure all requirements set according to the Eastern Partnership Roadmap action-plan are fulfilled by the Georgian side.
"We intend to start discussions on visa-free travel possibilities as well. We are expecting EU Commissioner Cecilia Malmstrem to visit us on December 3rd. She will present the Visa Liberalization Action Plan. We will make sure the plan is followed by us," Ivanishvili said. The PM mentioned that he assured the EU president that the new government will do everything possible to make sure human rights are protected and democratic institutions are strong enough in Georgia.
The president of the European Commission expressed his satisfaction with the meeting. Ivanishvili's decision to visit Brussels in his first foreign trip is accepted by Barosso as a sign of Georgia's clear intention to continue co-operation with the European Union.
"Georgia is a key member of our Eastern Partnership and the European Union is keen in bringing the country closer to the European Union" Barroso said.
The parties also discussed the possibility of improving Georgian-Russian relations. Barroso once again reiterated at a press conference that the EU fully supports the territorial integrity of Georgia and the Geneva Talks. "The EU is also committed to Georgia's territorial integrity. Through the Geneva International Discussions and the EU Monitoring Mission, we play an important role in guaranteeing Georgia's security. We will remain an engaged partner in this front as well." He commented
On November 14, the Prime Minister will meet with NATO Secretary General Anders Fogh Rasmussen.