Saakashvili speaks at NATO Parliamentary Assembly
By Ana Robakidze
Wednesday, November 14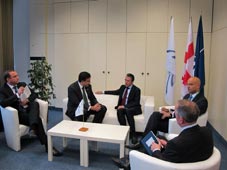 President Mikheil Saakashvili attended a session of the NATO Parliamentary Assembly in Prague before heading to Brussels to meet EU and NATO leadership.
In his speech at the assembly, Saakashvili spoke about the latest progress his country has achieved and about the October elections, saying that as a result, his party which has done a lot for the Georgia's Euro-Atlantic transformation is now in opposition and this should not hamper the integration process.
He also spoke about the motivation that made him to get involved in politics many years ago: "My involvement in politics was inspired by a simple idea. The idea that Georgia should and could join the family of Western democracies, that Georgia should and could one day become a member of the North Atlantic Treaty Organization and of the European Union" Saakashvili said in his speech.
Saakashvili's statement about the cohabitation in government has prompted many questions among the politicians and the society.
"And today, just weeks after free and fair elections that brought to power a new parliamentary majority and a new government—just as our team of reformists lost the control of most of the executive and legislative powers—I come to you as a President of cohabitation, as a political leader affiliated with an opposition party, and, more important– as a simple citizen of a nation that strives for freedom, to share my deep conviction that my country is more ready than ever to fulfil its NATO ambitions." President said.
PM Bidzina Ivanishvili and Irakli Alasania– the Defense Minister commented on a possible cohabitation in Georgian government in their interview with TV 9. The PM said that cohabitation is absolutely excluded as only one power has won the latest elections and there cannot be another governing authority. Ivanishvili also accused the President in providing misleading information to the country's foreign partners.
"The problem of cohabitation in the government does not exist" Alasania commented. He also assured that similar issues will never be raised in the Georgian Military forces, as the ministry and military leadership cooperate perfectly.
MP Giorgi Baramidze from the UNM is sure that Saakashvili never tried to speak about cohabitation in government, and the problem was in the wrong interpretation of his words. As per Baramidze's explanation, Saakashvili was speaking of him being the leader of a government made up of two parties, which does not mean that there is cohabitation in the Georgian government and will never be.