Sir Vernon Ellis pays a visit to Georgia
By Salome Modebadze
Wednesday, November 14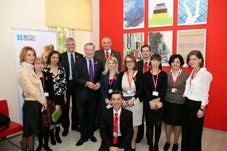 British Council Chair, Sir Vernon Ellis paid his first visit to Georgia November 8-9, as a sign of confirmation of the British Council's strong interest and support for Georgia and for the work that is carried out with our Georgian partners.
The opening of the new Teaching Centre was also among the reasons of Sir Vermon's visit. Youth above the age of 15 have an opportunity to take not only general English classes but also prepare for graduation exams. Next year, Georgia's British Council also plans to introduce special courses for children.
At a press conference on November 8, Sir Vernon welcomed the opportunity to see not only "the wonderful English language teaching center," but also see a very interesting and important country in the region. Welcoming cooperation with different cultural and educational institutions, he said there are a lot of opportunities. He said he was really impressed with the energy of the Georgian team.
Zaza Purtseladze Director of the British Council in Georgia told The Messenger that Sir Vernon Ellis' visit emphasized the importance of cultural relations between Georgia and Great Britain and the role of the British Council in deepening bilateral cooperation.
Purtseladze said the quality of the teachers is "exemplary." By giving example to other schools, the British Council aims to increase the standards of teaching in the country.