US Ambassador met with Agriculture Minister
Wednesday, November 14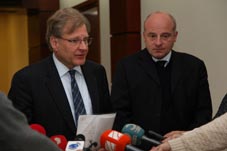 Ambassador Richard Norland met with the Minister of Agriculture of Georgia Davit Kirvalidze on Monday. The minister expressed his gratitude to the United States government for their contribution in Georgia's development. Kirvalidze emphasized that the strategic partnership with US is Georgia's key priority.
Kirvalidze talked about Georgia's agriculture development and new strategies. He discussed the ministry's latest plans and highlighted that assistance from foreign partners is essential for the country.
US Ambassador welcomed the minister's initiatives and said that the US will continue to support Georgia in carrying out its agricultural projects.