Charges grow in cases against Kalanadze and others
By Salome Modebadze
Wednesday, November 14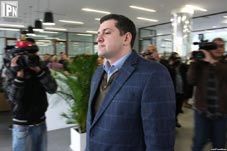 Accusations and allegations levied against the former Chief of the Staff of the Georgian Armed Forces Giorgi Kalandadze have grown.
According to the Prosecutor's Office concerning the events of February, 2010, commander of the land forces Kalandadze together with the Minister of Defence, Bacho Akhalaia verbally and physically abused 17 servicemen who had refused to make a morning exercise and kept them in a locked bathroom without food for a couple of days.
According to the prosecutor's office, incidents of illegal confinement have been confirmed by the testimonies of the witnesses.
Chief Prosecutor Archil Kbilashvili said that because of the new charges, the Prosecutor's Office has addressed the court to place former Army Chief of Staff in pre-trial detention pending the investigation. Previously charged for the abuse of soldiers with Akhalaia, Kalandadze was released by Tbilisi City Court on GEL 20,000 bail.
Akhalaia could face from seven to ten years in jail for the illegal suppression of freedom. For torture, he faces between nine and fifteen years in prison.
Meanwhile, the Appellate Court rejected Akhalaia's demand for his release. Nugzar Tsiklauri Akhalaia's friend from the United National Movement said "this struggle" may continue in the international court. Tsiklauri said it is natural that the soldiers have exercises in the army. Calling it "a comic situation," the MP said it would be inadequate if the soldiers did not have opportunity to train, not vice versa. Tsiklauri thinks that the new government will continue pressing the soldiers to make them talk against Akhalaia and his team and create a picture as if these people were massively suppressing human rights.
Georgian Dream MP, Eka Beselia, said a lot of criminal suits have been filed in parliament against Akhalaia, but this information is being sent to the prosecutor's office. UNM member Givi Targamadze does not find the accusations against the former official serious. He said more precise information is needed for further discussion around the topic.
In a recent interview with Interpressnews, Akhalaia said Kalandadze and the Chief of the 4th brigade, Zurab Shamatava (also accused of violating his official duties) are one of the most truthful representatives of the MoD. He said it does not matter how many charges he will face. Akhalaia said he was sure that he would be detained when he returned to Georgia; "I know that I am not a criminal," he said, emphasizing that the only thing he wants now is to prevent other people from the next blow.
Ambassador of US Richard Norland said the issue who will chair Georgian Armed Forces is interesting for NATO and it is important that the government and president select a qualified candidate capable of handling the official duties. The ambassador said that it is important to ensure the legitimacy of the detentions so that no one will try and settle political scores.