IFC Hosts Forum in Georgia to Improve Food Safety in Europe and Central Asia
Thursday, November 15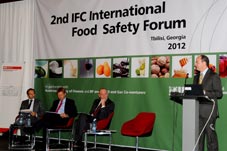 IFC, a member of the World Bank Group, hosted the International Food Safety Forum in Tbilisi to help more than 100 participants from Europe and Central Asia learn how modern food safety management systems can help companies become more competitive and increase their market opportunities.
The conference brought together executives from leading international, regional, and local food producers, along with major retailers, government representatives, and food safety consultants. The participants shared their experiences on improving food safety practices, a process that can lead to increased sales and access to new markets.
"These types of forums are very important in terms of improving food safety practices, and sharing global knowledge will help Georgia introduce efficient government supervision in food safety," said Zurab Chekurashvili, Head of the National Food Agency. "Our guiding principle is protection of entrepreneurs' interests. On the other hand, we should not forget about consumers, whose rights should also be protected."
Jesper Kjaer, Head of IFC Advisory Services in Europe and Central Asia, said, "Improved food safety practices help companies minimize risks, build trust among consumers, and attract potential investors. IFC has years of experience in this area, globally and regionally, and we are committed to continuing our efforts to help companies grow, creating additional opportunities for economic development in the countries of the region."
This forum is part of IFC's efforts to help the region's agribusinesses reach their potential. IFC advisory services help producers introduce modern food safety management systems throughout their supply chains in Europe and Central Asia.
Today's conference is the second International Food Safety Forum in Europe and Central Asia hosted by IFC. The program is supported with funds from the Ministry of Finance of Austria, and BP and its oil and gas co-venturers. The first forum was organized in Kiev last year.