Akhalaia moved to prison No 7
By Salome Modebadze
Thursday, November 15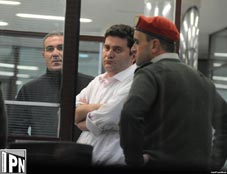 Bacho Akhalaia's family is opposed to the transfer of the former Minister of Internal Affairs to Ortachala's No 7 penitentiary facility. Akhailaia's father Roland Akhalaia said on November 14 that it is unacceptable to keep his son in the same building with the thieves-in-law whom he had been chasing for years.
Roland Akhalaia thinks that his son is a personal detainee of the current government, which did everything to present his son as a torturer and a murderer.
He said the new government team is pressing the opponents from the United National Movement (UNM) and accused the Minister of Corrections and Legal Affairs Sozar Subari of leading a campaign of "state terror."
He said Bacho was transferred from the Gldani No 8 prison facility the evening before without notifying the family. Roland Akhalaia worried that the thieves-in-law from the nearby cells will psychologically harass his son.
The former minister's friend and minority MP Nugzar Tsiklauri thinks that Prime Minister Bidzina Ivanishvili is personally standing behind his decision aimed at psychologically breaking and demoralizing Akhalaia.
He said the government should ensure the peace and safety of the former minister. Tsiklauri thinks that by failing to gather sufficient evidence against Akhalaia, the new government is trying to treat him with "confiscation methods."
Akhalaia is alone in the cell and has been sentenced to two-months of preliminary detention until the first pre-trial on December 25, 2012. He does not think he has a long-term security guarantee. Being under the same roof as the 35 prisoners, 20 of whom are thieves-in-law, Akhalaia thinks he does not have a very secure guarantee for safety. He said if anyone wanted to ensure his safety he had better be transferred to the so-called Matrosov jail with other detained police officials.
Monitoring group member and journalist Nino Zuriashvili said after meeting with Akhalaia that although he now feels safe, the former Minister finds it precarious to be under the same roof as the thieves-in-law; he said he does not trust the administration.
But Minister Subari said the rumors as if Akhalaia was taken from Gldani jail for political reasons are unserious. After meeting with Akhalaia's team members, he said the No 7 facility is the safest for Akhalaia, no other inmate can bother him so that he can have a walk in the hall. Surveillance cameras will monitor the situation in his cell. "He has offended a lot of people and would not have been protected from assaults," Subari said wondering what psychological stress Akhalaia can receive when the lawyers as well as the 51 members of the special monitoring group can visit him regularly.
Subari said when moving Akhalaia to a new jail, at Matrosov street was also considered, so that he may be moved there. Minister Subari told Rustavi 2 that No 7 penitentiary facility is the place where Mikheil Saakashvili's government kept former General Prosecutor, Interior and Defence Minister Irakli Okruashvili. Hoping that Saakashvili's government did it for Okruashvili's safety and not psychological pressure, Subari said his ministry takes responsibility for the safety of not only of Akhalaia, but every prisoner.
According to Executive Director of Human Rights Priorities, Lia Mukhashavria, the risk and threat is the same at every prison but supposes that it may the safest policy to take Akhalaia from prison to prison.