U.S. Assistant Secretary of State visits Georgia
By Ana Robakidze
Monday, November 19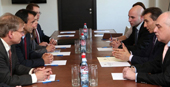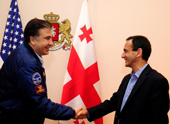 US Assistant Secretary for European and Eurasian Affairs Philip H. Gordon visited Georgia on November 16-18 and held several meetings with senior officials and also hosted a media roundtable for a select group of print media outlets. The official web-page of the U.S Department of State informs that the goal of the visit is to "emphasize the United States' continued commitment to the U.S.-Georgia relationship, as demonstrated through our democratic and economic reform assistance and steadfast support for Georgia's sovereignty and territorial integrity within its internationally recognized borders."
Philip Gordon called on both parties to collaborate for a better cause. "We know it is not easy after the bitter election campaign. It's not always easy to work with your political opponents, but it's essential for a democracy to thrive," Gordon said after the meeting with PM Ivanishvili on November 16th. He understands that some political tensions after elections are absolutely normal, but it is important that parties do not turn these tensions into "a real fight and acts of political retribution and accusations."
The Assistant Secretary expressed his concerns about the criminal charges against former state and military officials. "I stressed how critically important it is for the process to be absolutely transparent... if people are guilty of crimes those crimes should be investigated and people should be held accountable," he said. Transparency of the process and the rule of law are the most important factors and may have an impact on Georgia's international reputation.
PM Ivanishvili confirmed that he fully agrees with Assistant Secretary on the necessisty of an absolute transparency in legal proceedings ongoing against former officials. Ivanishvili commented that it is very understandable when democratic countries create many question marks when a new government comes into office and launches investigations against former officials, as such actions are unlikely for democratic countries. The PM promised that his government will do the best to make all procedures clear and explain to partner countries that "every action undertaken by us in this regard is in compliance with democracy and is not in any way political persecution or selective justice."
The Georgian PM once again reiterated the readiness of the country for further development of close relations with the United States and its willingness to continue to pursue NATO membership and integration with the West.
Gordon also expressed his positive impressions about the democratic development of the country involving fair elections and the peaceful transfer of power, which can be "in some ways a model for the region and beyond."
The assistant secretary also confirmed Ivanishvili is welcome to visit Washington to continue the dialogue.
Philip Gordon was also hosted by Minister of Foreign Affairs of Georgia, Maia Panjikidze, on November 17. The parties discussed the priorities of internal and foreign policy and further co-operation with the U.S. The possible normalization of the relationship with Russia was one of the mian topics of the meeting also attended by the Zurab Abashidze, special representative for relations with Russia. vEarlier the same day the Assistant Secretary met with Irakli Alasania, Georgia's Minister of Defense. After the meeting Alasania emphasized Georgia's aspirations to become a member of the European and Euro-Atlantic community and confirmed that Georgian peacekeepers will continue fulfilling its obligations in the International Security Assistance Force (ISAF) until the end of 2014.
Philip Gordon held his meeting with President Saakshvili on November 18th, before leaving the country.The meeting was also attended by Georgia's Security Council Secretary Giga Bokeria and U.S. Ambassador Richard Norland. The president's official web-page informs that the current and future relations between the countries, North Atlantic Alliance membership and ongoing political events were discussed at the meeting.