New accusations against MIA officials
By Salome Modebadze
Monday, November 19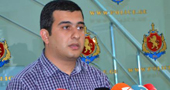 Deputy Tbilisi Mayor Shota Khizanishvili and Deputy Head of the Constitutional Security Department Vazha Liluashvili were sentenced to two-months of pre-trial detention on November 18.
Khizanishvili who previously held the position of Deputy Interior Minister, was detained for violation of official duties and the illegal use of information obtained by technical means, while Liluashvili, who partly admitted to his crimes, was accused of using his official duties in the illegal surveillance of private talks.
According to the information released by the General Prosecutor's Office on November 16, a special computer virus program was created upon the request of the Heads of the MIA's Constitutional Security Department (CSD), which enabled entering any computer and obtaining information.
Prosecutor General Archil Kbilashvili said that Khizanishvili ordered the Deputy Head of the MIA's operational-technical department to gather information against Georgian Dream coalition members to cause public mistrust. Afterwards, the "necessary" audio materials were uploaded on Youtube on behalf of Bidzina Ivanishvili's bodyguard Beso Surmava, as if Ivanishvili had ordered his bodyguard to secretly record the talks of his coalition members.
But Tbilisi Mayor Gigi Ugulava thinks that all the accusations against his deputy are politically biased. "The case was initiated personally by Ivanishvili. He has tried to assure his colleagues that he does not "spy on them," Ugulava said, stressing that it is Ivanishvili's method [of management] to provoke confrontation among colleagues.
According to the former PM and Secretary General of the UNM party, Vano Merabishvili, the arrest of his "close friend" Khizanishvili aimed at exerting pressure on him [Merabishvili].
Other MIA officials were also given two-month pre-trial detentions, including CSD Head Levan Kardava and CSD Head of Service Giorgi Kavlashvili. Former Head of the CSD Data Akhalaia, who is out of the country, will also be charged on Monday.
Meanwhile, the former Head of the MIA's General Inspection, Tengiz Gunava, has been detained for possession of illegal drugs and weapons charges, was released on 10, 000 GEL bail. Denying the accusations, Gunava claimed he had never used any drugs.
Lawyer Malkhaz Velijashvili will file a suit against the MIA representatives who participated in Gunava's detention, accusing them of placing drugs and weapons in his defendant's apartment.
During his visit to Georgia, US Assistant Secretary of State for European and Eurasian Affairs, Philip Gordon said that although the alleged crimes should be investigated, it is important "to avoid any perception of these selective prosecutions" of political opponents, otherwise the whole country will pay the price.
But PM Ivanishvili stressed that each and every step made by the new government is in compliance with the rule of law and is not in any way a political persecution or selective justice.