Tbilisi International Film festival under the way
By Salome Modebadze
Tuesday, November 20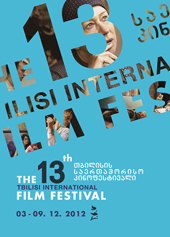 13th Tbilisi International Film Festival (TIFF) organized by the Prometheus Cinema Art Center is approaching.
During the week of December 3-9, Amirani and Rustaveli cinemas will become the most desirable places for cinema goers, film critiques and media interested in the newest Georgian and international cinematography. It will also provide an opportunity to meet with actors, producers and directors from around the world.
Everyone involved or interested in the film industry will have a unique opportunity to exchange ideas and opinions about modern cinematography and attend screenings, industry panels, master classes and retrospectives.
Every year the festival offers new film products of a higher artistic value to cinemagoers, highlights new trends in films and facilitates the development of the Georgian film industry by actively supporting the talents and creative visions of young filmmakers.
In its thirteen years of existence, TIFF has hosted honorable International filmmakers like Leos Carax (France), Greta Scacchi (UK), Mike Leigh (UK), Kshishtof Zanussi (Poland), Bob Rafelson (USA), Bruno Dumont (France), Hugh Hudson (USA), Maryam D'Abo (USA)... This year the festival will also host Istvan Szabo (Hungary), Mohsen Makhamlbaf (Iran), Giancarlo Giannini (Italia) and other special guests.
New European long films will compete for the golden and silver Prometheus for the best film and best director accordingly. Moreover, Russia, Turkey, Iran, Georgia, Armenia and Azerbaijan will compete among short films - an innovative part of the TIFF.
The festival's special section will be dedicated to French-German friendship and cooperation of the two countries in cinematography and Polish films will be in the special focus.
"Our program is very diverse as always. TIFF mainly presents the so-called Art House films – which cinemagoers cannot usually see in Tbilisi cinemas. We want to somehow fill this void of intellectual films," Gaga Chkheidze, General Director of TIFF told
The Messenger
.
For 2 Georgian lari, TIFF offers a great opportunity for cinemagoers to see over one-hundred films and meet with international guests at Georgian cinemas.
The Messenger
is glad to be the media partner of the TIFF. We encourage our readers to follow our updates about the festival and see as many films during the festival as possible.
For additional information please visit
www.tbilisifilmfestival.ge