Conflict of interest over public defender candidate
By Salome Modebadze
Thursday, November 22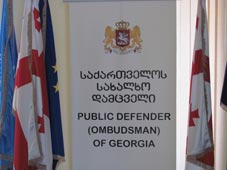 The appointment of acting governor of Mestia, Kapiton (Kakha) Zhorzholiani, has created quite a stir. Zhorzholiani is the husband of public defender candidate Nina Khatiskatsi. Some politicians believe that if Khatiskatsi becomes Georgia's new public defender, this will create a "conflict of interests."
With regard to her husband's current position as Mestia's temporary governor, Khatiskatsi said there is no risk that her husband's position will influence her decision-making if she becomes a public defender.
However, Irakli Melashvili from Coalition for Freedom of Choice thinks the opposite. Emphasizing the importance of ombudsman in the country, Melashvili said the future ombudsman should be politically free and unbiased, especially on behalf of the government.
Suspicious of Khatiskatsi's political affiliations, United National Movement member Giorgi Kandelaki thinks if parliament approves her candidacy as an ombudsman, it will negatively affect the public trust in the ombudsman's institute in general.
According to UNM MP Davit Darchiashvili, Khatiskatsi is "loyal" to the new government. Although MP Akaki Bobokhidze said a person can always remain firm despite the position of a spouse, he finds it hard to achieve in Georgia.
Georgian Dream MP Eliso Chapidze said it is early to talk of the "conflict of interests" because she said Khatiskatsi is one of the candidates for the ombudsman's position and not just only one.
"I am not sure that the majority will vote only for Khatiskatsi," she said, adding that the final decision may differ.
Georgian Dream member Zviad Dzidziguri thinks that parliament should consider Khatiskatsi's husband's case during the voting.
Zhorzholiani's Georgian Dream membership caused controversies towards Khatiskatsi, when the government team unanimously named her as a public defender candidate.
But Dimitri Lortkifanidze, Lia Mukhashavria, Tamar Gurchiani, Gela Nikolaishvili, Natia Imnadze and Ucha Nanuashvili, were also pondered over as candidates of the post for public defender.
Lortkipanidze told The Messenger that at this moment Khatiskatsi has to withdraw her candidacy as the result of the conflict of interests because of her husband's "high position" in local-self government. Lortkipanidze thinks that the ruling team has somehow succeeded in appointing their political activist in some regions subordinate to President Mikheil Saakashvili.
Political analyst Soso Tsiskarishvili thinks that Khatiskatsi will not be the main candidate for the ombudsmen's position due to her husband's new position.
Tsiskarishvili told
The Messenger
that if time spent on selecting the candidates was used in a better way it would be enough for holding internal discussions with experienced international human rights protectors over this issue. Hoping that the name of an ombudsman will soon become known to the public, he said that Independent Experts' Club member Mukhashavria and Nanuashvili are very authoritative human rights protectors acknowledged on the international level.
Ilia Japaridze who previously held the post of governor thinks that the Georgian Dream coalition wanted to have a governor from their political team.
Kapiton (Kakha) Zhorzholiani received majority of votes from the self-government. Sakrebulo chairperson Gocha Khorguani former United National Movement member said all the members freely expressed their positions and voted without any pressure. Khorguani said Zhorzholiani is a deserving person who is aware of the problems local population is facing in Mestia nowadays.
She stated that it would not affect on her impartiality. "My husband is not a member of the Georgian Dream, he was one of the activists for the political party and it cannot be the basis of the public defender's bias."