Ivanishvili's speech gets criticized by opposition
By Salome Modebadze
Friday, November 23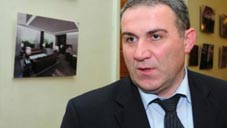 The United National Movement (UNM) has accused the ruling Georgian Dream government of not keeping its campaign promises. Calling Prime Minister Bidizna Ivanishvili's speech "irresponsible" UNM Member of Parliament Nugzar Tsiklauri thinks the new government lied to voters by promising to decrease utility fees, educational fees, etc.
"We are used to Ivanishvili's changeable character– today he may say one thing, and a week later something completely different," Tsiklauri said.
UNM representative Davit Darchiashvili was concerned about the constitutional changes proposed by Prime Minister Ivanishvili. Darchiashvili said the proposed changes are aimed against one person (President Mikheil Saakashvili) and do not coincide with democratic principles.
Saakashvili's presidential term expires in January, 2013 but he will remain in office until the next presidential election in October 2013. According to Ivanishvili, Parliament may initiate constitutional changes to strengthen Parliament's power before the presidential election. Under these proposed changes the President would be subordinated to Parliament.
Georgian Dream MP Zurab Abashidze said his party will hold consultations with UNM representatives about this issue. He said the new government is working to ensure stability in the country and that constitutional changes should be made by the people, not one individual.
Georgian Dream member Viktor Dolidze criticized Saakashvili for his multiple re-adjustments of the Constitution since 2004. He said that the Constitution should not be a political plaything.
In response UNM member Chiora Taktakishvili stated that Bidzina Ivanishvili cannot bear cohabitation with a strong president. Taktakishvili said Georgian Dream is using illegal methods to limit Saakashvili's power.
Taktakishvili added that Ivanishvili cannot play by the rules of a democratic country. She said the government should be trying to fulfil its campaign promises rather than conducting political witch hunts.
According to political analyst Gia Nodia the new government does not want to cooperate with their opponents.
However political analyst Gogi Khutsishvili thinks the opposite. The analyst told The Messenger that it is the UNM that has created confrontation with the current government, and not vice-versa.
Khutsishvili said the new government needs time to fulfil its election promises and that the population should be kept informed about the government's decisions.
"A written document outlining the government's strategy to fulfill their campaign promises should be made available to the public." Khutsishvili told The Messenger .