U.S. European and Eurasian Affairs assistant deputy meets Ivanishvili
By Ana Robakidze
Wednesday, November 28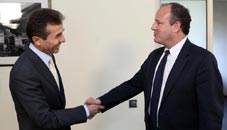 Eric Rubin, the U.S. Deputy Assistant Secretary of State for Bureau of European and Eurasian Affairs is visiting Georgia. He will hold meetings with Georgian government officials, non-government officials and other international representatives. Mr. Rubin will also participate in the Defence and Security Working Group meetings between Georgian and U.S. officials as part of the U.S.-Georgia Strategic Partnership Commission, the U.S Embassy in Georgia website reads.
The meeting with Foreign Minister Maia Fanjikidze was held on November 27th and was attended by the deputy minister Nicolos Vashakidze and the U.S. ambassador in Georgia, Richard Norland. The meeting was closed for media sources; neither parties offered comments to the media.
"We once again analyzed our bilateral relations," Ivanishvili said after the meeting with Rubin, at the State Chancellery. Both sides stressed the importance of the 20 year long of Georgia-US relationship and expressed hope to intensify future relations between the two friendly countries.
The U.S will support Georgia in their path to integration with the West, Ivanishvili announced.
Rubin also confirmed with journalists that the U.S is going to continue its supportive policy and help the Georgian people with achieving their goals.
"I am here to talk about how we can help support the transition of the success of Georgia as a proud democracy following the elections; we are completely committed to supporting Georgia, the Georgian people and the Georgian government in achieving the aspirations it set for itself," the Deputy Assistant Secretary commented.
He also reiterated that Washington is supportive for Georgia's territorial integrity and positions in the Geneva Talks.
"We are very, very strongly committed to achieving better regional integration to the benefit of all the countries in the region. We believe that better relationships are possible across the board; there is no zero-sum game and we support the Prime Minister's efforts to improve all of Georgia's relationships in the region and that is something that we will do our best to support when we go to Geneva." Rubin said.
Eric Rubin, who plans to stay in Georgia until November 29th, will also meet the National Security Council Secretary, Giga Bokeria and participate in the defence and security working group meeting between the Georgian and U.S. officials, which will be held in the frames of the strategic partnership commission.