Minister Tsulukiani answers questions
By Salome Modebadze
Wednesday, November 28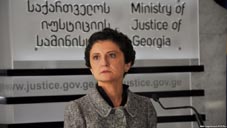 The state of business, the detention of former state officials, the future of Georgian cases against Russia in the European Court of Human Rights in Strasbourg and other related issues were addressed by Minister of Justice Tea Tsulukiani at Tuesday's press conference.
Answering questions for the media, Tsulukiani said many small and medium entrepreneurs became friends with former state officials to protect their businesses from terror. However, later they became oppressors themselves.
The minister said these problems were "kept under wraps" while the change in government uncovered the disputes. According to Tsulukiani, Prime Minister Bidzina Ivanishvili strictly emphasized that the government should not make friends with businessmen. However, the Minister said all the disputes can be addressed within the legal framework.
Tsulukiani said former Minster of Internal Affairs Bacho Akhalaia, former Chief of Staff of the Georgian Armed Forces Giorgi Kalandadze and other Internal Affairs and Defence Ministry officials were detained based on factual evidences. She said it is not a political persecution. However, she said, the detention of the former Head of the MIA's General Inspection Tengiz Gunava was the only case that caused questions.
Tsulukiani explained that being a politician does not guarantee immunity. She explained that everyone is accountable to the law.
The minister welcomed criticism stressing that otherwise the situation in the country will remain the same as during the United National Movement's governance.
Tsulukiani felt optimistic about the Georgian case launched against Russia for mass deportation of Georgian citizens in 2006. She said all the procedures are finished in court so a decision on this should come soon. However, she said the case of Georgian-Russian war is not yet defined.
The case of the Georgian photojournalists who were detained on allegations of spying in favor of Russia in 2011 was also discussed at the press conference. Tsulukiani said this case is particularly important for the country not only in a legal aspect, but also for discouraging pressure against the freedom of expression.
Tsulukiani encouraged the Georgians to file suits in a Georgian court, thus solve the local problems and prove their truth without leaving the country. She said people should be confident that their problems can be solved in the short term.