Medvedev talks about relations with Georgia
By Salome Modebadze
Friday, November 30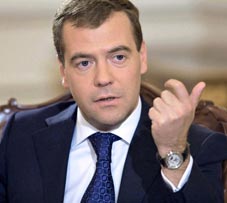 Russian Prime Minister Dimitry Medvedev said Russia is ready to negotiate with the new Georgian leadership only if Tbilisi recognizes the existing geopolitical realities in Abkhazia and South Ossetia.
In an interview with Russian daily Kommersant on November 29th Medvedev stated he approves of having humanitarian, cultural and trade-economic relations with Georgia. He said the only person whom he would never negotiate with is President Mikheil Saakashvili. Accusing Saakashvili of starting the Georgian-Russian war in August 2008 the Russian Prime Minister claimed the Georgian President has committed crimes against the Georgian people and other nationalities.
"Prime Minister Bidzina Ivanishvili is from another generation of politicians," Medvedev said. Medvedev added that the Russian government will observe Ivanishvili's "real actions" before deciding about the restoration of diplomatic relations between the two countries.
In the interview Medvedev claimed it was Georgia and not Russia that suspended diplomatic ties before adding that he approves of restoring relations. Medvedev said the Kremlin will be "very attentive" to "certain signals" coming from Tbilisi.
United National Movement (UNM) member Davit Darchiashvili responded that the terms offered by Medvedev are unacceptable for Georgia.
"Let us avoid making interpretations and develop a serious strategic plan," Georgian Dream MP Gia Volski suggested.
Georgian Dream representative Mamuka Areshidze thinks that Russia is still confused about how the new Georgian government will act. Areshidze claimed that representatives of the two countries were supposed to have met on neutral territory but the Kremlin did not response.
According to Areshidze the new Georgian government will never recognize the independence of Abkhazia and South Ossetia. He added that it is unlikely that Medvedev will talk to anyone refusing to recognize Abkhazia and South Ossetia. "This is why we should create dialogue in another way," the Georgian Dream representative stated.
According to political analyst Soso Tsintsadze Russia has left a door open for negotiating with Georgia. However, Tsintsadze thinks that Georgia's pro-Western orientation and its aspiration to NATO membership may become barriers to Russia withdrawing from the breakaway regions. Tsintsadze claims that Russia is largely indifferent towards Georgia's domestic politics but is very preoccupied with Georgia's foreign policy.