Rasmussen: Georgia will become NATO member
By Ana Robakidze
Thursday, December 6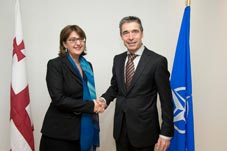 Georgia's Foreign Minister Maia Panjikidze attended the NATO-Georgia Commission on December 5.
NATO member countries once again reiterated that they are supportive of Georgia's integration process. Supportive statements were made by the foreign ministers of Germany, Czech Republic, Netherlands and Estonia, right before the commission meeting started.
German Foreign Minister, Guido Westerwelle said his country is interested in a strong partnership with Georgia. He expressed the hope that the power transition in Georgia will not impact on the process of country's integration with NATO and EU. Germany fully supports Georgia on its way to democratic development.
The NATO-Georgia Commission meeting was opened with a speech by the Secretary General, who welcomed the Georgian delegation and once again emphasized the country's contribution to the NATO mission– particularly to ISAF.
"The alliance is also devoted to Georgia; we support Georgia's territorial integrity and sovereignty within the internationally recognized borders and also its Euro-Atlantic future. The October parliamentary election was a very important test of democracy for Georgia; the elections were democratic, free and fair. The next election of the president will be another important test for Georgia," Rasmussen said. He also added how important it is for the country that both sides (Georgian Dream and UNM) establish effective co-habitation and co-operate with the principles of democracy.
Georgia is a very important partner to the alliance; Rasmussen says the decision made at the Bucharest Summit will not be changed; Georgia just needs to meet the criteria to become a member.
"I want to declare first of all that this meeting will be our first possibility to discuss the issue. I'm glad that the new government has confirmed its loyalty to this course and there is wide consensus on NATO integration in Georgia. We remain loyal to the Bucharest summit declaration, that Georgia will become a NATO member, of course if the necessary criteria are met," he said.
At the NATO-Georgia Commission meeting, Panjikidze spoke about the domestic and foreign priorities of the Georgian government. "We had a very warm meeting," NATO members expressed their gratitude to Georgia's contribution to the alliance missions, especially to ISAF, the minister told journalist while commenting the meeting.
Russian Foreign Minister Sergey Lavrov also made statements about Georgia. He spoke at a press conference after the NATO-Russian council meeting on December 4th, and said that Russia and Georgia have a lot in common historically and culturally and these relations have never ended, but Moscow still cannot understand what exactly Georgia is offering to restore diplomatic relations between the two states. "Georgia's new leadership has publicly stated several times about its willingness to normalize relations with Russia and overall with neighbors in the region. We've actually heard about it through media sources and we want to understand what specifically is being offered and how," Lavrov commented. The Russian FM finds it to be impossible to restore relations with Georgia until Tbilisi stops seeing Abkhazia and South Ossetia as occupied territories. He says the rhetoric of the Georgian government "doesn't match restoring relations without preconditions."
Russian Foreign Minister Sergey Lavrov's statement was responded to by the Georgian Prime Minister's Special Representative for Relations with Russia, Zurab Abashidze, who says that there are no easy ways to overcoming the difficulties, but it seems that the parties are trying to find a way out of the situation. He confirmed that Tbilisi is not going to establish any preconditions for starting up dialogue and it will be impossible if Russia demands from Tbilisi recognition of the independence of Abkhazia and South Ossetia.
An expert in international issues, Tornike Sharashenidze thinks that Russia is in a better position at the moment. The Georgian government has been criticized by the West and Moscow hopes this will hinder Georgia's integration with the EU and NATO and the country will have to stand against Russia alone. Obviously, Moscow has some plans about Georgia, but Sharashenidze thinks Tbilisi should not compromise.