City Council discusses the fate of Tbilisi budget 2013
By Salome Modebadze
Thursday, December 6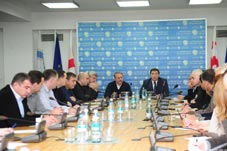 The priorities of the Tbilisi budget for 2013 have been defined. Mayor of Tbilisi Gigi Ugulava said the budget will consider social programs for citizens. According to the mayorís office, their primary priority is to protect citizensí interests and improve their lives.
Mayor Gigi Ugulava said on December 5 that over 350, 000 families registered in Tbilisi will receive a 100 GEL voucher next year. In addition, 45, 000 socially vulnerable families will receive GEL 250. 150 GEL will cover their communal expenses while they can use the rest of money according to their needs.
While discussing the details of the budget with City Council Members, Ugulava said communal taxes remain the main problem for people. ďI welcome the central governmentís efforts concerning allowances in this area, though if they are not fulfilled, the vouchers will provide important relief for the population," he said.
Although the capitalís budget decreased by 50 million in 2013, the mayorís office is confident that GEL 640 million will be enough for carrying out social programs next year.
Mamuka Katsarava, Head of Tbilisi City Hall and the Social Care and Culture Municipal Department, said although social projects were stopped between October and November; there are enough resources in the capitalís budget for restoring those programs.
With its own 8 million GEL, the Mayorís Office plans to restore the social privileges suspended by the central administration. This includes: privileges for using municipal transport; assistance in covering communal expenses; monthly financial assistance to vulnerable families with many children; provision of socially vulnerable families and other parts of the population with necessary services.
Moreover the employees of every institution financed by the mayorís office including kindergartens, ambulances, music schools, emergency services, the Tbilisi transport company and local self-governances will have their salaries increased by 20%.
City Hall also plans to renovate the parking lot of the emergency service, renovate ambulance centres; the continued rehabilitation of roads will also continue. GEL 69 million is considered for infrastructural projects as a whole.
Any project initiated, approved or supported by the population will also receive financial support from the municipality.
Tamaz Shoshiashvili, the Finance-Budget Commission Chairman of Tbilisi City Council, said the council has received the draft document and will discuss it in ten-days before the final adoption.