Giancarlo Giannini –in focus at TIFF
By Salome Modebadze
Friday, December 7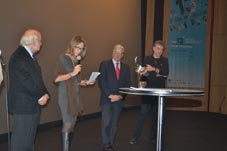 The famous Italian actor, director, producer and screenwriter Giancarlo Giannini is in special focus for the 13th Tbilisi International Film Festival (TIFF). "Thank you for such a warm greeting. This is my first visit to your amazing city," he said on December 5th.
Cinema-goers had an opportunity to watch a short film about Giannini's life made by his friend Adriano Pintaldi. In Pintaldi's documentary Giannini says he loves young people even though he may not agree with their decisions. He says a person should do whatever he loves and likes in life.
Co-director of TIFF Nino Anjaparidze awarded Giannini with a special award for his merit in cinematography. "I hope it will be the start of my career and give me motivation to live longer." Giannini said smiling.
The Ambassador of Italy to Georgia Federica Favi welcomed Giannini's participation in the festival. Favi expressed her respects towards Adriano Pintaldi, the author and director of the Rome Film Festival for bringing the Italian star to Tbilisi.
She said Giannini ,who first appeared on screen over 47 years ago, today has become one of the icons of the Italian cinematography.
A young Giannini starred in Lina Wertmuller's Seven Beauties (made in 1975), which is based on a real story. The film was specially screened at TIFF.
"A film is a fairy-tale adults tell to other adults," Giannini said. He then suggested making joint Georgian-Italian films as proof of the two country's friendship.