Opposition is sceptical towards Nanuashvili
By Messenger staff
Friday, December 7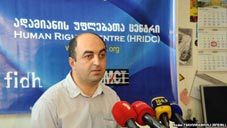 The candidate for the Public Defender's position Ucha Nanuashvili says his main priority is the people. Nanuashvili said if he will be named as the Ombudsman he will work on a strategy for ensuring human rights.
Sharing his views with Parliament at a Human Rights Committee session on December 6th Nanuashvili stated that the Public Defender's Office should become more active in coordinating with civil society, especially concerning conflict zones. "More civil organizations should be engaged in its [the ombudsman's offices] activities and not isolated [from the public]," the candidate said on Thursday.
Chairperson of Human Rights Committee Eka Beselia said Nanuashvili is the most deserving among the pool of very good candidates for the Public Defender's position. Beselia expressed her support towards Nanuashvili. "[Nanuashvili] has been working in the field of human rights protection for a long time, he has good experience in this field. He has been fighting against political persecution for many years and has good international contacts." Beselia stated.
However, the opposition party the United National Movement (UNM) does not support Nanuashvili for the Public Defender's position.
UNM member Zurab Japaridze recollected how Nanuashvili once said that Georgia should apologize towards Abkhazian and South Ossetian people because it could not manage to protect them from conflicts.
Nanuashvili has also been quoted as saying that Georgia provoked Russia into starting the 2008 war. He cited Ambassador Heidi Tagliavini's report on the 2008 Russian Georgian war which states the same. Tagliavini's report added that all parties involved in the conflict had failed and violations of human rights by both sides took place in the region.
Japaridze claims Nanuashvili has been politically motivated throughout his career and was actively engaged in the activities of Georgian Dream's human rights group during the election campaign. Japaridze added that Nanuashvili will be "a comfortable" Ombudsman for the ruling party.
Other UNM MP's also added that Nanuashvili is politically biased. They claim he gave vague answers when questioned about the detention of officials from the former administration.
However, political analyst Soso Tsiskarishvili told The Messenger earlier that that Independent Experts' Club member Nanuashvili is a very authoritative human rights protector acknowledged on the international level.