Minister Of Internal Affairs Meets With The PACE Monitoring Co-Rapporteurs
Friday, December 7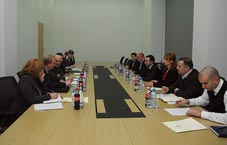 On December 5, 2012 at the Ministry of Internal Affairs the meeting was held with the delegation of Parliamentary Assembly of the Council of Europe in the framework of the fact-finding visit in the country. Ministry of Internal Affairs of Georgia, Irakli Gharibashvili met with Michael Aastrup Jensen (Denmark, ALDE) and Boriss Cilevics (Latvia, SOC) co-rapporteurs of the Parliamentary Assembly of the Council of Europe (PACE).
During the meeting ongoing political events, new government`s priorities, results of parliamentarian elections of 2012 and cooperation between parliamentarian majority and minority were discussed.
There were also discussed other topics including police reform, human rights protection on occupied territories of Abhkazia and South Ossetia and the issues.
(www.police.ge)