Israel government supports business forum
Monday, December 10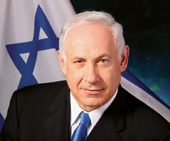 A special event called "Israeli Business in Georgia 2013" was hosted by the Radisson Blue Iveria on December 7-9. The forum, supported by the Israeli government was attended by Georgian representatives from the private sectors. Representatives of Sotheby's auction were among the special guests.
Around 50 projects carried out Israeli companies operating in Georgia were presented on the forum. The projects are mainly carried out in the field of agriculture, tourism and communication.
Itsik Moshe, President of Israeli-Georgia Chamber of Business received supportive letters from Israeli Prime Minister Benjamin Netanyahu and the Secretary General of the Israeli Labour Party, Hilik Bar.
"The decision of Israeli business community representatives to leverage your profound knowledge of the Georgian economy and culture in promoting the interests of the state of Israel deserves appreciation and respect... I wish good luck to all participants and organizers of the conference," Netanyahu said in his letter addressed to the members of Israel-Georgia Chamber of Business.
Hilik Bar also emphasized the great economic cooperation between the two friendly countries. The Israeli Labour party sent a message of greeting to the new government of Georgia and expressed support for the further development of Israel-Georgia economic relations. Israeli Ambassador to Georgia HE Yuval Fuchs also welcomed the forum.
Working meetings held within the forum were hosted by the Ministry of Economy and Sustainable development of Georgia and the Ministry of Agriculture.
Later participants of the forum celebrated Hanukah together.