Rike area under investigation
Monday, December 10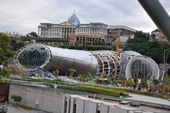 The Georgian Ministry of Finance is interested in an issue concerning the alienation and expiation of the Rike area where various construction processes are ongoing, including the musical-comedy theatre which has been both criticized and applauded due to its unique architecture.
The Ministry of Finance claims that a large section of the Rike area, (43, 350 square meters) was sold in 2006 for $7 million. A company took responsibility for carrying out the construction work in the area and its expenses. However, in 2008, the Tbilisi Mayor's office compensated the area with $17 million despite the fact that no construction work was launched by the company in question.
Former and current officials have already been questioned concerning the issue, including deputy Mayor, Papuna Petriashvili and former deputy minister of Environmental Protection, Davit Ioseliani.
Ioseliani claims that the alienation of the area was carried out based on the law.
Deputy chair of Tbilisi City Hall, Mamuka Akhvlediani stated that Prime Minister Bidzina Ivanishvili should also be questioned regarding Rike area issues. According to him, Ivanishvili and Ivanishvili's Cartu Group were actively involved in the Rike Development Programme.
Akhvlediani underscored that alienation of the area was legal and the reason why the Mayor's office expiated the areas was that the purchaser could not fulfill the obligations.
Ivanishvili responded that he was really interested in Rike Development Programme. However, later he changed his mind.
"The Mayor's office sent me the Rike project. It was just a draft and there were two wine jugs on it. I was told that Georgia was a country of wine and the jugs had symbolic connotation. I liked it and I said that I would build the theatre which would have such a shape. However, then I invited a specialist and we calculated the real sizes of the construction and it turned out really horrible. I categorically denied building the construction," Ivanishvili emphasized.