Fake passport issue remains blur; investigation continues
By Salome Modebadze
Monday, December 10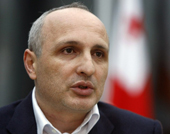 United National Movement (UNM) Secretary General Vano Merabishvili's bodyguard said he handed over the fake passport to Merabishvili at Tbilisi International Airport on November 30, 2012. According to the Ministry of Internal Affairs (MIA) Merabishvili has once again denied "the truthful evidence and witnesses' testimonies" during interrogation on December 7, thus refused to cooperate with investigation
It was on December 1, when the MIA released a copy of the passport which had Merabishvili's photo, but with another person's name.
The MIA thinks that the former Minister of Internal Affairs is giving contradictory information to hinder the investigation. However, they said the investigation continues because of the high public interest and all the additional proof will soon become public.
However, Merabishvili's Lawyer Mamuka Chabashvili said his defendant responded to the questions about the alleged fake passport case "thoroughly."
Merabishvili's supporters gathered in front of the MIA and cheered the UNM Secretary General. "All the members of the UNM will continue functioning," Merabishvili said, stressing that the UNM will offer Georgian citizens a way of improving their lives.
He said after the five-hour interrogation that the new government wants the Georgian media to report only about the arrests, interrogations and pressure on the members on the UNM and thus, hinder the opposition from criticizing the ruling team.
UNM members think that the Georgian Dream wants to "neutralize" the UNM as a political team; Koba Khabazi thinks that Prime Minister Bidzina Ivanishvili has personally "ordered" the oppression of the opposition. However, MP Ako Minashvili said the Georgian Dream cannot stop their team through detentions.
On December 7 Wilfried Martens, President of the European People's Party (EPP) [where the UNM is an observer member] condemned the investigation against Merabishvili calling it a "ridiculous case."
However, on December 6, MIA released another copy of the "fake" passport issued on the name of Gocha Tsereteli, with the attached photo of Giorgi Lortkipanidze, the former Deputy Minister of Internal Affairs. Lortkipanidze now works at the Security Service of Tbilisi City Hall.
Accoridng to the MIA, Lortkipanidze confirmed owning the passport for a certain period of time adding that other employees of the MIA may also have IDs with similar demographical data.
Lortkipanidze's lawyer, Gogita Gabaidze said information about "the second passport" is a state secret and by uncovering its details, the prosecutor's office is committing a crime against the country. According to Gabaidze, such passports are designed for operation-investigational issues and secret meetings. "The owner of such a passport cannot use it for anything else," he said.
However, lawyer Davit Dekanoidze said Georgian officials can have several other passports but only if they are registered on their own names.