Maia Panjikidze talks about withdrawal of ambassadors
By Keti Arjevanidze
Tuesday, December 11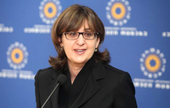 Maia Panjikidze, the minister of Foreign Affairs said there are some countries in which ambassadors should be changed, including those ambassadors who refuse to collaborate with the new government. Panjikidze spoke of Ministry's renovation on her first press conference, on December 10th.
According to Panjikidze currently only Kote Gabashvili, Georgia's ambassador to Italy, resigned from the post.
The Minister explained that the list of ambassadors for reassignment has been sent to the secretary of Georgian Security Council, Giga Bokeria, whom Panjikidze met in November.
"There was not any reaction from the president about this issue. I applied with a letter to the President, and I expected some concrete actions, but I do not see the steps taken yet," added the Minister. Panjikidze did not name the countries in which the new government wants to change the ambassadors.
Prime Minister Bidizina Ivanishvili made a statement on December 8th, saying that in return for the ambassadors' affirmation, the United National Movement (UNM) has demanded that they release several detained team members.
Political analyst, Irakli Menagharishvili thinks that changes of the staff of the Diplomatic Corps are normal, but the delay of process obstructs the country's development in internal and foreign directions. Menagharishvili said the nonexistence of cooperation among the political sides hinders this process.
According to political analyst Kote Jghenti, it is not justified to deal with UNM and release people like former Minister of Internal Affairs Bacho Akhalaia. Jghenti said that Ivanishvili should not agree on this suggestion. "The authority of the ambassadors will be exhausted, ultimately in 2013. Mikheil Saakashvili will not be a President and Ivanishvili can introduce his ambassador candidates," Jghenti said.
Minister Panjikidze said that the international community is not going to interfere in the internal affairs of Georgia.
Panjikidze has recently attended NATO and OSCE Ministerial.
She said she has explained the foreign partners that there is not selective justice in Georgia, that cohabitation does not mean the non-investigation of crime. "Nobody doubts that the past must be investigated and this process must be transparent, and not only Georgians, but our foreign partners will be informed about that, "said Panjikidze and added cohabitation considers mutual concessions.