Georgian President visits Poland
By Messenger staff
Tuesday, December 11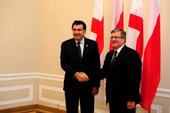 President of Georgia, Mikheil Saakashvili paid an official visit to Poland on December 6, which is still in progress. During his visit, the Georgian President took part in various events, spoke on the two countries friendly relations and future perspectives.
The first meeting was held between the presidents of Georgia and Poland. Topics of the meeting were related to deepening of the relations between the countries.
President of Poland, Bronislav Komorovski, emphasized that Georgia will have serious progress on Eastern Partnership Vilnius summit concerning membership in the EU due to the democratic reforms carried out in the country.
Saakashvili also participated in the international conference "Poland and the World in the 21th Century" where he delivered a speech regarding deepening of diplomatic relations with Poland in the frame of Eastern partnership.
The president also touched upon domestic Georgian issues and highlighted the importance of peaceful changes in the country.
Saakashvili underscored that the democratic path of the country will lead Georgia to Euro-Atlantic structures.
"We will definitely be NATO member country. The Georgian population is unanimous concerning the issue," Saakashvili stated.
Georgian achievements concerning democracy were mentioned by Dirk Brengelmann, Assistant Secretary General for Political Affairs and Security Policy.
According to him, the last parliamentary elections in Georgia were historical and appealed to the political forces in the country to collaborate.
Saakashvili also visited Auschwitz concentration camp in Poland. Both the Georgian and Polish priests delivered a service there.
The Georgian President and the first lady of Georgia came to the grave of former Polish President and the first lady Lekh and Maria Kachinsky and made a tribute to the memory of them.