Planned changes in the ministries
By Keti Arjevanidze
Wednesday, December 12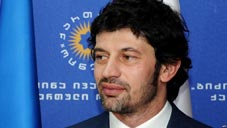 Public insurance and electricity tariffs were among the main issues discussed at the government session on December 11.
Ministers revealed the changes they are going to perform in their departments.
Kakha Kaladze, the Minister of Energy and Natural Resources, said negotiations regarding a decrease in electricity tariffs are approaching the end. "Only details are left," he said.
Kaladze did not name how much tariffs will be reduced, but he felt positively about the process and promised to reveal the final results at the nearest briefing. The minister also remarked that currently the changes touch only the electricity tariffs but added that "soon there will be a clear picture regarding the gas and fuel tariffs."
Davit Sergenko, Minister of Labour, Health and Social assistance explained the main differences between the insurance package forecasted by the new government and the 5 Georgian laris insurance of the previous government.
The healthcare minister spoke of the drawbacks of the previous program and highlighted the points in which the new insurance package will focus. He said people will have an opportunity to visit the primary healthcare medical specialist and use urgent stationary treatment.
From February 2013, citizens who do not use any type of insurances can have the new package. According to Sergenko, the insurance package will be financed by the state insurance fund and private insurance companies.
Sergenko explained that the forecasted package includes minimal medical assistance and instead of paying 5 laris, patient should pay according to necessity.
Finance Minister, Nodar Khaduri stated that the self-governments of Telavi, Tsalenjikha, Aspindza and Poti have overused their local funds; therefore they cannot perform some obligatory work.
The government decided that above mentioned self-governments will be financed from the government's reserve fund.
Minister Khaduri said they will finance the self-governments to ensure that they follow their local obligations– for example, by providing teacher salaries or kindergartens with food.