Controversies surrounding Rike Park continue
By Ana Robakidze
Thursday, December 13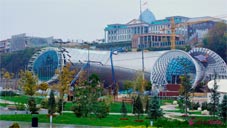 The Ministry of Finance continues with the investigation into the selling and then buying back of land in Rike in the historic part of Tbilisi.
Former and current officials have already been questioned concerning the issue, including the deputy Mayor, Papuna Petriashvili and former deputy minister of Environmental Protection, Davit Ioseliani.
UNM MP David Sakvarelidze has also been summoned for questioning by the investigators as a witness. He was a member of the land management commission at the Tbilisi municipality in 2006, when Rike was sold.
The MP still refuses to get involved in the "politically motivated" investigation and assist in the "political prosecutions." He had to appear for questioning on December 12. However, Sakvarelidze preferred to attend the Human Rights Committee sitting in the Parliament
"The status of the MP and the committee meeting are more important for me than visiting the Ministry of Finance's institutions "for obscure reasons" Sakvarelidze commented. However, Georgian law forces the witness to appear at the scheduled interrogation.
In response to the investigation, Sakvarelidze said Prime Minister Bidzina Ivanisvhili is the one person who is fully involved in the Rike issues; therefore, he should be questioned first. The warrant about summoning Davit Sakvarelidze was finally delivered to the parliament's chancellery in Kutaisi.
PM Ivanishvili finds it strange that some people want him to be questioned regarding the Rike case. Ivanishvili says he saw the project which originally seemed to be acceptable but after he saw the architect's drawings, it was horrible and he refused to approve the project.
The investigation processed was negatively assessed by the representative of the parliamentary minority. MP from the United National Movement (UNM) Giorgi Gabashvili said, the process aims at "discrediting political opponents."
Financial wrongdoings concerning the case with Rike Park were initially brought into the spotlight by the Young Georgian Lawyers Association (GYLA). The GYLA published a detailed report on the renovation process ongoing in three of the largest cities in Georgia– Tbilisi, Kutaisi and Batumi in May 2012.
Around 40,000 square meters of land was sold for $7 million in 2006 according to the Ministry of Finance. The purchasing agreement was made by the city municipality and the company Akhali Rike, registered only 2 months before signing the agreement. The company is co-founded by GMC Holding (owned by an offshore entity) with various business interests in the country. According to the contract, the company had to undertake development work on the area, including construction work. However, Akhali Rike failed to fulfill their obligations.
The GYLA report states that the Tbilisi municipality bought back the plot of land for $17 million in 2008, thus around $10 million USD was lost from the city budget.