NDI polling results
By Ana Robakidze
Tuesday, December 18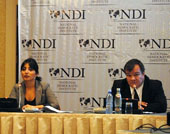 The National Democratic Institute (NDI) released a survey on Public Attitudes in Georgia on December 17, which was "designed to measure Georgian voters' attitudes toward the October 1 parliamentary elections and the performance of politicians and political parties."
1,947 interviewees were given a list of the representatives of both the Georgian Dream Coalition and the United National Movement (UNM), to answer the question: "Do you like or dislike?"
In the survey conducted in August of 2012, only 39% said they liked Bidzina Ivanishvili, while according to the findings of a public opinion survey in November this rating had increased to 80%. President Mikheil Saakashvili received a favorable rating of 29%.
According to the survey, 63% respondents identify the Georgina Dream Coalition to be the closest party to them, while only 10% voted in favor of the UNM. The respondents were also asked about Patriarch Ilia the II, who received a favorable rating of 93%.
Luis Navarro, NDI's country Director in Georgia, said, "The Georgian Dream Coalition and Prime Minister Ivanishvili have received their highest ever approval ratings in NDI polls from Georgians following the October parliamentary elections. In addition, a majority of both Georgian Dream and UNM supporters see the country as going in the right direction."
The survey also showed that an absolute majority of the interviewees would trust the Georgian Dream Coalition to manage relationship with Russia, social and healthcare issues, restoring territorial integrity and integration with NATO. 62% of the interviewees said the GD is the party that is able to strengthen democracy in the country.
Interviewees were asked to identify national and local issues. The study shows that a majority of interviewees are mostly concerned about jobs and affordable healthcare, rather than about the popular issues such as NATO/EU membership, or even territorial integrity or poverty, which was found to be the number one problem with only around 30% of the respondents.
Property rights, crime, corruption and media independence were placed on the very bottom line of the Most Important National Issues.
79% of the respondents find the cost of communal services to be the most important local problem, together with transportation costs and issues with roads.
David Bakradze from the UNM, who was rated higher in the poll than President Saakashvili, trusts the NDI survey and finds it to be reliable. However, UNM members say that the GD is the most trusted party at the moment as people expect some positive changes from the new government.
MP Zviad Dzidziguri of the Georgian Dream Coalition says the results of the survey are very realistic and it is a fact that PM Bidzina Ivanishvili enjoys the highest favorable rating among the politicians. Georgian Dream representatives positively commented on the NDI survey adding that the high ratings and trust they are currently enjoying serves as an additional motivation for them.