Bankruptcy scheme of Cartu Bank uncovered
By Ana Robakidze
Wednesday, December 19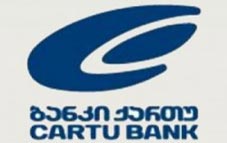 The Ministry of Internal Affairs of Georgia informs that an organized-criminal scheme has been uncovered by investigators. The plan, comprised of several phases, aimed to cause the bankruptcy of Cartu Bank, which was owned by the PM Bidzina Ivanishvili.
Reportedly the scheme was drawn out by high officials of the former government; right after Ivanishvili made his official statement about his plans to enroll in politics. The first phase of the plan was to make legislative amendments authorizing "to sell the property of legal entities in case of discovering a debt, ignoring the fact those properties were mortgaged in favor of banks."
The aim of the changes was to "deprive Cartu Bank from re-buying its property at a reasonable price. The auctions were artificially canceled under the guidance of the National Bureau of Enforcement, owning to which the property was handed over to the Ministry of Economy and Sustainable Development. On its part, the Ministry of Economy sold off property to other individuals under the decree of the President. Adoption of the mentioned law was aimed only at bankrupting Cartu Bank."
Following the criminal scheme, businessmen with indebtedness of Cartu Bank, who were loyal to the government, were forced by the officials to declare their non-existing debt, so the mortgaged property could be put out for an auction with no bidders and sold by the Ministry of Economy to other companies at a symbolic price. The action caused huge financial damage to Cartu Bank, mortgage loans amounted to $59, 997, 363 USD and 3, 757, 000 GEL.
The official statement of the Ministry of Internal Affairs informs that obtained evidence make clear that high-ranking officials of the former Parliament, Ministries of Justice, Finance and Economy, acted in consent to fulfill the crime scheme which was aimed at bankrupting and causing financial damage to Cartu Bank. Reportedly former Minister of Justice Zurab Adeishvili was the one who gave the order to other officials involved in the crime to start acting and carry out the plan.
The owners of companies who owed money to Cartu Bank (and also were trusted by the former government) were contacted and told to declare their non-existing tax loan; which they did.
Three companies out of twenty-one, (that currently owe Cartu Bank) have already declared that they are ready to pay the loan and cover the financial damages they have caused to the bank. The companies are: Interplast LTD , Pirimze Joint Stock Company and Laura Ghatchava Plant LTD –LTD Logos and Tetri Sakhli.
The investigation is still in progress and a number of former high- ranking officials, including Zurab Adeishvili may be questioned.