Court releases Nika Gvaramia on bail
By Ana Robakidze
Monday, December 24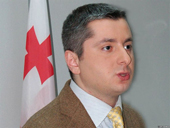 Former energy and finance minister, Alexander Khetaguri and current director general of Rustavi 2 TV, Nika Gvaramia, detained for alleged corruption, were released on bail on December 22nd.
The presiding judge, Giorgi Arevadze, granted bail of GEL 30, 000 to Nika Gvaramia, Aleksandre Khetaguri, Kakha Damenia and Devi Kandelaki and bail of GEL 15, 000 to Giorgi Nemsitsveridze and Izabela Gutidze. All six individuals deny the charges.
A pre-trial hearing is scheduled for January 31, at 14:00. The Prosecutor's office informs that Gvaramia is suspected in the participation of so called "large-scale elite corruption" and charges against him include forging documents, money laundering and false entrepreneurship, as well as providing assistance in bribery.
The former energy minister Alexander Khetaguri, is suspected in accepting $1 million from the Electricity Distribution Company TELASI in exchange for avoiding the tax scrutiny of Telasi and three of its "daughter" companies. Reportedly, Khetaguri asked Gvaramia to help in handling the deal and for that purpose the latter instructed his associate Nemsitsveridze to register a shell company.
Kakha Damenia, who was deputy economy minister in 2005-2008, has been charged with using forged documents, providing assistance to bribery and money laundering. His partner from the business consultancy firm GDC Solutions, Bela Gutidze, has been charged with using forged documents, as well as concealing crime.
The chief executive of Telasi, Devi Kandelaki, was also suspected in participating in the illegal deal, particularly in giving bribes, forging documents and providing assistance in money laundering.
Khetaguri claims there have never been any criminal schemes. He is going to fight for and prove his innocence, as the ongoing investigation is just "a staged performance" as he told journalists upon leaving Gldani Prison on Saturday.
According to Nika Gvaramia, some people want to destroy TV Rustavi 2; therefore they are interested in his detention. "Rustavi 2 is the most popular TV broadcaster in the country and airs all the major problems in the country," Gvaramia said, stressing that the TV company will continue to exist with or without him.
According to the Minister of Justice Thea Tsuklukiani, investigators are interested in Gavramia's activities when he held several important positions in the previous government and the investigation has nothing to do with Rustavi 2. Allegations that Gavaramia's detention is against the free media and journalism is groundless, Tsulukiani said.
President Saakashvili commented on the investigation while speaking to United National Movement (UNM) members at a party congress on Sunday. He said that it is wrong to detain those individuals who have built up European institutions in Georgia and set the country free from the corruption of the past. Saakashvili said if the similar processes continue, Georgia will never become a member of NATO or the European Union.
Tbilisi Mayor's office issued an official statement in which the recent charges against Gvaramia and 5 other individuals are condemned. In the statement, the new government is advised to pay more attention to economic issues which need to be solved urgently, rather than investigate some nonexistent crimes.