Merabishvili criticizes the government
By Ana Robakidze
Tuesday, December 25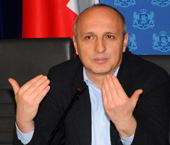 "Ivanishvili thinks he is God in this country. He cannot even imagine that an opposition could exist in this country," former PM Vano Merabishvili, said in an interview with Kviris Palitra, where he strongly criticized the new government.
Merabishvili advises the PM to try and keep his promises given to people rather than trying to destroy the free media, judicial system and self-governance.
The former PM, who now holds the post of the Secretary General of United National Movement (UNM), does not believe that the Georgian Dream is capable of keeping its pre-election premises, especially about increasing the state budget to 600 Million GEL. The promises are so unrealistic that "he (Bidzina Ivanishvili) has become a hostage of his own promises." Merabishvili says.
"We will continue the constructive criticism of the government and will react on every unlawful arrest," Merabishvili said in reply to the question about the UNM's future strategy. He says the UNM is forced to change the regime and focus on a fight against unfairness. The UNM is going to stay on as an active member of Georgian politics and sooner or later return to the government, Merabishvili added.
Merabishvili also commented on the plethora of recent investigations and arrests of former state officials. He is confident that the whole process is politically motivated and it is unacceptable to detain politicians that people have voted for. As a response, the journalist reminded him about those officials who were arrested by the previous government, such as David Mirtskhulava, Sulkhan Molashvili, Merab Adeishvili and Akaki Chkaidze. Merabishvili replied that these individuals have never been elected by Georgian people; also, unlike the new government, the UNM has never been oriented on repression, but only on the democratic development of the country.
The Chief Prosecutor Archil Kbilashvili is not surprised that some individuals see the investigation and detentions as political persecution and he is ready to discuss every case with people who are interested. "In a democratic society, the polarization of views is absolutely normal" Kbilashvili told Kviris Palitra. Available evidence creates the demarcation line between the restoral of justice and political persecution, the prosecutor says.
In order to dispel all perceptions of politically motivated prosecutions, Kbilashvili earlier made a statement and offered to hold jury trials into all the recent cases in which former state officials were arrested, which may require some legislative changes.