New head of the Public Broadcaster elected
By Ana Robakidze
Friday, December 28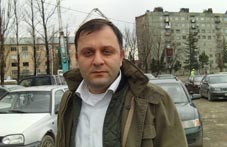 Giorgi Baratashvili was elected the new Head of the Georgian Public Broadcaster (GPB). He was one of 5 candidates shortlisted by the board of trustees out of 143 applications. Baratashvili received 8 votes out of 15 from the Board of Trustees' on December 28th.
Baratashvili has worked for the GPB for many years. He joined the broadcaster back in 1990s and started as an assistant to a cameraman. The recent position he was holding was a technical director for the broadcaster.
The new director is going to start the optimization of expenditures and also launch restructuring within the broadcaster, which would include layoffs.
During his interview with the board and also on live debates with other candidates, Baratshvili said his main priority will be cutting the operational cost of GPB as the broadcaster has financial difficulties. GPB owes money to the state and banks and there is the possibility that the budget may be cut. Baratashvili is going to talk to the government about restructuring the department, but even if talks with the Finance Ministry are successful the GPB will still have to cut salary expenses from the current 14 million GEL to 10 million GEL next year.
The staff of the newsroom, which currently has 280 personnel employed, may also be reshuffled.
Baratashvili always used to refrain from assessing the editorial policy and the quality of the newsroom work; however he has mentioned that the news should always be objective and if this is going to be made a necessity, several training sessions will be run for the staff.
Creating an art council will be one of the initiatives offered by Baratashvili. The council will monitor the editorial policy base on the research done among the audience. "The broadcaster should fulfill the needs of the society," Baratashvili said.
He also suggested repairing the building GPB is based in, hoping the government will be able to help with this issue.
Natia Abramia, with experience with the BBC, was one of the 5 shortlisted candidates who probably had the highest support from the society. In an open letter released on Thursday, Abramia says that the selection process at the GPB was a planned scenario. She said she wanted to bring her experience where it was needed most, at the GPB, and hoped that one day people will finally have a public broadcaster free from any influence - when the editorial policy and propaganda will not be monitored by one person controlled from "above".
While another candidate Tinatin Rukhadze said she would apply for the position in the future and participate in a new contest after the law on broadcasting has been reviewed and amended.