President Saakashvili meets New Year in Afghanistan
By Ana Robakidze
Friday, January 4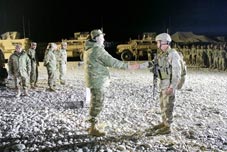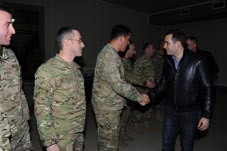 President Mikheil Saakashvili visited Helmand province of Afghanistan in order to spend New Year's Eve with Georgian troops. The president congratulated Georgian soldiers on the New Year and wished them a successful return to their homeland.
Saakashvili's visit was accompanied by intensive shooting in the province. However, Georgian soldiers managed to fight off the Taliban's attack.
"We are very proud of you," Mikheil Saakashvili told the Georgian soldiers. In his speech he spoke about the importance of the Georgian troops and the distinguished skills the soldiers have. "I want all Georgians to know that they have many heroes…Once General Petraeus told me: Georgian soldiers have special talents and skill, which I have never seen in other countries with more developed and rich armies," Saakashvili said.
He also mentioned that the New Year's Eve was special for him as he was spending it at "the most difficult spot for Georgians" and with "the best Georgians."
The president is confident that the Georgian troops serving in Afghanistan help the country's safety a lot. If not for the Georgian military divisions serving in Afghanistan, Georgia would have been an easy target for its enemies. The mission is of historic importance the president said. Saakashvili wished the soldiers to return home safe and soon.
Georgian troops joined the International Security Assistance Forces (ISAF) in 2009 and lost 19 soldiers since then.
The president was not the only one who met New Year with the military forces. Irakli Gharibashvili, Minister of Internal Affairs visited and congratulated the police officers serving in Akhlagori and in the conflict region. The Minister of Defense Irakli Alasania celebrated at the military base of the 4th Infantry Brigade. Military servicemen of the First Artillery Brigade and Special Operations Forces also received congratulations from the Defense Minister.
The official web-page of the ministry informs that "Irakli Alasania outlined the main priorities of Defense Ministry for 2013 during the meeting with the Georgian military. "I'd like to wish a Happy New Year to all members of the Georgian Armed Forces. During 2013 we will take care of our Armed Forces and our veterans. We plan to provide assistance to the family members of Georgian heroes who have fought for our country. This will be the year of a real change in the development of an appropriate defense doctrine for the Georgian Armed Forces," Alasania said, wishing everyone peace for 2013.