President Saakashvili agrees to recall several ambassadors
By Ana Robakidze
Tuesday, January 8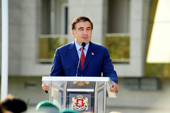 President Mikheil Saakashvili agreed to dismiss several ambassadors from 65 representative offices Georgia holds worldwide. According to Georgian legislation, only the president has the right to dismiss an ambassador upon a recommendation from the foreign minister.
The Presidential administration reports that Saakashvili will recall those ambassadors who have resigned on their own and those whose term of rotation has expired.
Saakashvili consulted with the new government on the list of the diplomats who should leave the posts and also agreed to nominate for a vacant ambassadorial post in France a candidate proposed by the government.
Reportedly the Ministry of Foreign Affairs wanted to replace at least nine of Georgia's ambassadors, those who were suspected in pursuing a very narrow party interest of the United National Movement. "The new government intends to staff its embassies with those diplomats who will pursue the country's new policy," Foreign Minister Maia Panjikidze commented. Some of the diplomats may be recalled as part of a routine diplomatic rotation.
The complete list of the names of affected diplomats has not been specified by the presidential administration. However, Foreign Minster Maia Panjikidze mentioned earlier that ambassadors from Austria and the OSCE, the U.S., Latvia, China and Hungary are recalled.
She also revealed the new heads of diplomatic missions submitted for signing the National Security Council, which includes nine diplomats. Georgian Ambassador to Ukraine Grigol Katamadze and Georgia's Permanent Representative to the UN Kakha Lomaia, were not recalled, their rotation period expires respectively in January and in February. Also, the resignations of the head of Georgia's mission in the U.S., Temur Yakobashvili and Georgia's Ambassador to Italy Kote Gabashvili were accepted. The minster also informed journalists that "all the career diplomats will remain on their posts."
Salome Samadashvili, the Georgian representative to the European Union, will be recalled, as Panjikidze said Samadashvili has been holding the post for about ten years now, which is unacceptable, as ambassadors can be appointer for only 3 year term, with a possibility to extend the period for one more year.
Koba Davitashvili, an MP from the Georgian Dream said in his interviews that recalling the ambassadors is a very natural process, as the government has changed in the country, therefore new ambassadors that will carry out the new political course of the country should be appointed.
The Head of the Foreign Relations Committee of Parliament, Tedo Japaridze, said that new ambassadors are expected to serve neither PM Bidzina Ivanishvili nor the new government, but the country only.