Chairman of Defense Committee of Dutch Parliament visits Georgia
By Ana Robakidze
Wednesday, January 9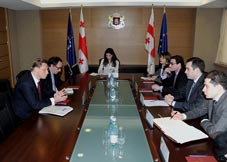 Chairman of the Defense Committee of the Dutch Parliament Ten Brook visited Georgia on January 8.
At the meeting with the Minister of Defense Irakli Alasania, the sides discussed Georgia's Euro-Atlantic integration and the reforms planned at the Defense Ministry of Georgia. Brook advised the minister to continue with the reforms and the cohabitation. The sides also discussed the assistance issues related o the Afghan National Security Forces in the post-ISAF period after 2014.
The ministry reports that "The Chairman of the Defense Committee of the Dutch Parliament positively assessed the meeting with the Georgian Defense Minister and encouraged him to go on with the scheduled reforms. "I am quite impressed with the results that Georgia has achieved so far at the Defense Ministry. It's extremely important for the international community to know what Georgia is doing in this respect. Keep the military as an independent, non-politicized entity – I think this is confidence building for the international community," underlined Brook.
After the meeting Alasania said that Georgia has been involved in the planning process of the future of ISAF along with NATO members. The Georgian strategy will be based on assisting the Afghan National Security Forces with training. "I'd like to underline that our mission won't be military and combat. Our task will be to share [our] experiences with the ANSF. We also encourage the Afghan side to educate their soldiers at the National Defense Academy of Georgia," stated the minister. Parties also talked about Georgia's future integration into Euro-Atlantic structures. Alasania commented that the process is fully supported by the Netherlands.
Brook talked about the current political situation and ISAF during his first meeting in Georgia, which was with Davit Darchaishvili MP from United National Movement.
The Dutch MP told journalists that he is happy with the opportunity to meet a representative from the parliamentary minority. The meeting was very interesting he said. The parties discussed the issues related to security and defense. Darchiashvili commented that he discussed with Brook the challenges the Georgian opposition is facing at the moment.
The meeting was held at the hotel Tbilisi Marriott and was closed for media.
Within the framework of the official visit, Ten Brook will hold meetings with Georgian counterpart Irakli Sesiashvili, Chairman of the Georgian Parliament and Minister of Foreign Affairs. Meetings are also scheduled with other representatives of the legislative and executive bodies of the Georgian Government. He will also visit the administrative line of the occupied region.