Georgian FM's positions misinterpreted
By Ana Robakidze
Wednesday, January 16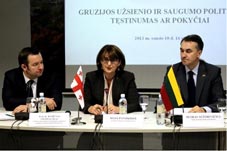 The United National Movement submitted a request to the parliament chancellery with regard to summoning the Minister of Foreign Affairs, Maia Panjikdize, to the parliament. The representative of the UNM Akaki Minashvili, said that his party calls on Prime Minister Bidzina Ivanishvili to urgently dismiss Panjikidze.
According to Minashvili, Panjikidze is "unqualified" and her activities are against state interests.
"Two months since she has assumed the office and after the new government began to work, Georgia has problems with all of its neighbors, including Armenia, Azerbaijan, Turkey, as well as with the United States, EU and NATO. Therefore, we are summoning the minister to the session of the faction to answer all our questions and explain why all this has happened. We also call on the Prime Minister to dismiss Panjikidze." Minashvili commented.
Panjikidze has been criticized recently for the statements reportedly she made regarding the Karabakh conflict. Azerbaijan media reported on January 11th that Panjikidze, when answering the question of the Ambassador of Azerbaijan to Lithuania during the discussion, said that the Karabakh conflict solution is possible only in favor of the territorial integrity of Azerbaijan.
The Chairman of Georgian Foreign Relations Committee of Parliament, Tedo Japaridze, said he is not sure what was the exact statement made by the minister, but thinks that there cannot be any serious reasons for dismissing her.
The Ministry of Foreign Affairs commented on the fact and explained that Panjikidze only confirmed her respect for the territorial integrity of Azerbaijan and despite the insistence of the ambassador the minister did not in any way mention Nagorno Karabakh.
Deputy Minister David Zankaliani told the media that the comment Panjikidze made during the meeting in Lithuania had been misinterpreted. The minister mentioned that every conflict needs an individual approach and should be settled according to the regulations set out by international law, Zankaliani explained. He also expressed his regret that some MPs from the minority had tried to use the misinterpretation in favor of their political interests.
The Ministry of Foreign Affairs revealed video footage of the meeting, which was attended by both Azerbaijan and Armenian Ambassadors. "We are not involved in the discussions between Armenia and Azerbaijan. We support the territorial integrity of Azerbaijan and I can repeat this many, many times. Every conflict is unique and has different reasons." Panjikidze said.
The Foreign Minister continues her visits. After paying an official visit to Latvia on January 14, the minister continued her trip to Czech Republic on the 15th.
Later Panjikidze commented from Prague that she is ready to talk with parliament members any time. However, she advised Minashvili and other UNM members to really think about the country and take care about preserving friendly relations instead of manipulating with misleading information.