Georgia still remains to be a Partly Free country
By Ana Robakidze
Friday, January 18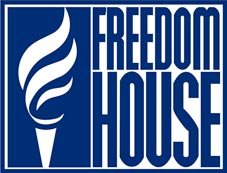 Independent watchdog organization Freedom House published a new annual report on the state of Freedom in different countries during the year 2012. The organization dedicated against oppressive rule and to expand freedom and help people to exercise their fundamental rights across the world, says Georgia is a "partly free" country and grants it 3 points. Overall, the report covering mainly political rights and civil liberties shows more declines than gains worldwide.
Compared to several other countries where the level of freedom has decreased during 2012 (27 countries showed significant declines, compared with 16 that showed notable gains), the situation has been partly improved in Georgia. Noteworthy declines were recorded for Kazakhstan, Kenya, Mali, Nigeria, Russia, Turkey and Ukraine and gains for the Middle East and some African countries like Libya (advancing from Not Free to Partly Free country in a year), Tunisia, Guinea, Lesotho, Senegal, and Sierra Leone.
Freedom House paid great attention to the October Parliament election in Georgia and noted that the country has achieved "electoral democracy status" and the fact is labeled in the report as one of the Key Global Findings. The country has experienced its first orderly transfer of power to the opposition through democratic elections.
"Georgia's political rights rating improved from 4 to 3 due to the country's first peaceful handover of power to an opposition party after parliamentary elections that were judged free and fair by international observers and featured more pluralistic media coverage," the report reads.
The organization notes that Georgia landed on a less than satisfying note due to the arrests of former state officials. The report states that the fact is raising concerns about politically motivated prosecutions. However, Georgia is still the most notable country in Eurasia, advancing in political rights, after the opposition Georgian Dream party won competitive parliamentary elections.
The report also speaks about the situation in 12 break-away regions across the world, including Abkhazia, South Ossetia , Gaza Strip, Nagorno-Karabakh and Northern Cyprus. Abkhazia is stated to be a Partly Free territory, whilst South Ossetia is Not Free. "Abkhazia's political rights rating improved from 5 to 4 due to genuinely competitive parliamentary elections that allowed a shift toward independent candidates and away from either government or opposition parties."
Georgian politicians reacted on the report in different ways. Members of the United National Movement (UNM) are concerned and find it to be a troublesome fact that for the first time the report speaks about the arrests of former state officials. MP Giorgi Gabashvili advises the government to take the report into consideration as Freedom House is one of the most influential organizations in the world.
An expert in social communications management, Archil Gamzardia, doubts that the report depicts the latest facts. He expects that some results will be reviewed and changed in future reports, after the organization studies the events that took place during the last months of the year 2012 and the beginning of 2013.