Has President Saakashvili's term has expired?
By Ana Robakidze
Tuesday, January 22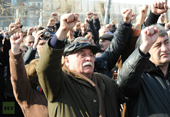 Several hundred people gathered outside the presidential palace in Tbilisi on Sunday, January 20. Protesters, who believe that the term in office for Saakashvili has expired already, demanded his resignation.
President Mikheil Saakashvili was inaugurated for his second and final five-year presidential term on January 20, 2008, and now many think his presidential term has already expired.
The presidential election in January 2008 was called after Saakasvhili resigned following street protests in November 2007 and around thirteen months before his first presidential term expired.
The Constitution sets October 2013 as the date for the next presidential election, which means that President Saakashvili's final term in office is five years and nine months.
Protesters gathered outside the palace at midnight– exactly five years after the inauguration of the president and celebrated the expiration of the president's term with fireworks.
The rally was organized by several non-governmental organizations; among them was Unanimity for Public Rights and the political party Tetrebi, lead by the former governor of the Imereti region Temur Shashiashvili. He said that it is now up to the Parliament to act and to declare that the President's term in office has already expired.
Organizers of the Sunday protest announced that that they had collected over one million signatures of citizens calling for Saakashvili's resignation, they also mentioned that protest rallies would continue for nine more days. The organizers of the rally are assembled outside the residence in a tent, where they are continuing to collect signatures for launching the president`s impeachment and to wait for the next steps of the parliament.
The Parliament is planning some amendment in the Georgian Constitution. Vakhtang Khmaladze Chairman of the Legal Issues Committee of the Parliament, recently told journalists that serious amendments are expected in the part of the Constitution which regulates the division of power. One of the amendments will be related to the ways of electing the president in the country.
Khmaladze thinks that it will be better if a new president is not directly elected in autumn. The country is in the process of transforming into a completely parliamentary state. Therefore, the new constitution should be able to balance the power between the government, parliament and president.
The Chairman of the Legal Issues Committee says for the parliamentary republic it is better if the president is elected indirectly, as it happens in many European countries.